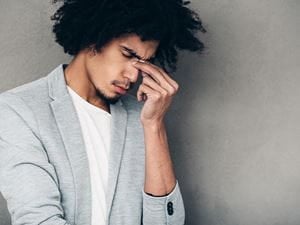 Shutterstock.com
Whether you're battling an addiction to gambling, opioids, alcohol or another substance, you're not alone. Nearly 21 million Americans have at least one dependency, and 90% of them never receive treatment.
Unfortunately, a self-help approach rarely works and can often have harmful consequences. After months or even years of attempting to quit, those who suffer from addiction can lose their spouse, kids, career, good health and more.
Sadly, many people look at addiction with judgment and condemnation. They forget that God offers a path to forgiveness and wants a relationship with all of His children, regardless of how far or long they've strayed.
So, while you may be feeling down and out, there's still hope to be found. Now is the time to rely on your faith in your fight against addiction and let yourself be guided toward healing. You may be wondering, "Where do I start?"
1. Recognize and Repent
Addiction can seem a lot like idolatry. While it may not have felt that way at first, you eventually became a slave to your object of desire and lived apart from Christ. However, God is always willing to forgive those who recognize and repent.
According to 1 John 1:9, He promises to purify you of all unrighteousness. Therefore, your first step toward overcoming addiction is acknowledging your shortcomings and seeking forgiveness.
2. Cast Out Temptation
If your heart is in the right place and your plea is sincere, the next logical step is to cast out temptation and deny your desires. For those with a long history of addiction, that's much easier said than done, and relapse is a very real possibility. After all, just because you're promised transformation doesn't mean it'll happen overnight.
Do your part to fight off cravings by recognizing triggers and removing temptation from your life. Avoid people and places that might cause you to stumble and eliminate any and all substances from your home.
3. Look for Christ-Centered Support
While God will provide you with strength and hope, finding a Christian community can also offer physical and emotional support during this challenging time. Engage in fellowship with other believers and share your hope in Christ. Their experiences will encourage you to keep going, even when things get tough. In fact, according to a new study, 84% of surveys show that faith decreases the risk of substance use disorders in the United States.
As you look for a like-minded community, you may be surprised to find so many people sharing similar struggles. Since the pandemic, alcohol sales have risen, indicating a potential uptick in the number of people battling substance abuse and addiction. Thus, there will likely be plenty of organizations and addiction outreach groups to choose from.
4. Embrace Prayer
If you've tried to fight addiction on your own and have failed, you already know how discouraging it can be. Because addiction can trigger chemical reactions in your brain, it can be difficult — if not impossible — to overcome your dependence alone. Luckily, you don't have to struggle in silence because help is always just a prayer away.
When you experience cravings, look to Jesus for strength. Ask him to break the chains of your addiction and lead you on a more fulfilling path. Prayer can be a powerful ally when things become difficult.
Here are a few prayers to keep with you.
Jeremiah 17:14 - Heal me, Lord, and I will be healed; save me and I will be saved, for you are the one I praise.
Matthew 11:28-29 - Come to me, all of you who are tired from carrying heavy loads, and I will give you rest. Take my yoke and put it on you, and learn from me, because I am gentle and humble in spirit; and you will find rest.
John 14:27 - Peace is what I leave with you; it is my own peace that I give you. I do not give it as the world does. Do not be worried and upset; do not be afraid.
5. Lean Into His Love
One of the best feelings in the world is knowing that, even at your darkest moments, God never left you. He's always been there, actively loving you and waiting for you to return to Him. His love can help you overcome even the most powerful addictions and live a joy-filled life.
Lean into His love by remaining persistent on your path to sobriety. Seek forgiveness when you slip up, knowing that Christ will meet you with grace. Most importantly, trust that He's already shaping you into the person you were meant to be.
All Things Work Together
Romans 8:28 says that all things work together for the good of those who love God. While it may be hard to accept right now, your struggling is not in vain. When your addictions are behind you, you'll stand more firm in your faith and have a powerful testimony to share with the world.
Your life will become proof of what Christ can and will accomplish through anyone willing to let Him in. In the end, He will work everything together for good.
---
Oscar Collins is a Pennsylvania native with a passion for writing and community outreach. He's the managing editor at Modded where he writes about a variety of topics like relationships, mental health and similar subject matter. Follow him on Twitter @TModded for frequent updates on his work!
9/1/2021 7:24:42 PM