Edward Blum and Paul Harvey accurately point out in The Color of Christ: "[F]or decades and centuries, children have often been shown white images of Jesus as part of their religious education" (253). They mention a particular book, Let's Thank God for Freedom (2004), which pays tribute to Dr. King and integration and then pictures "an interracial group of children—white, black, and Asian—at church where "every Sunday we celebrate Jesus, who was born to set us free." In the background, a white Jesus with long brown hair and rosy cheeks looks down and smiles. (253)
I suspect the picture is similar to this one, available in any LDS bookstore. My oldest daughter bought me a copy ten years ago. She knew I'd be pleased to see a black child included.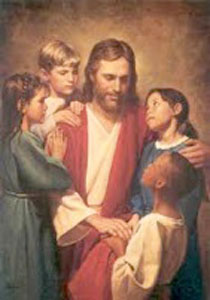 In the spirit of universalizing the image of Christ, Dr. Cecil "Chip" Murray, retired pastor of the First African Methodist Episcopal Church in Los Angeles, produced a film titled The Color of the Cross, portraying a black Jesus. Perhaps the nation was not ready for the unfamiliar image. The film did not fare well at the box office. Dr. Murray defends his belief in a melanin-rich Christ with the reminder that Joseph and Mary took the infant Jesus into Egypt for his protection, and that "chocolate is more easily hidden in chocolate than in the ethnic vanilla of, say, Europe" (Murray 56).
One might ask, "Does it matter if Christ is portrayed as black or white?" Of course, we don't know what he looked like, though the prophecy that he would not be "comely" (Is. 53:2) suggests that he would probably not look like Jeffrey Hunter, cast in the 1961 King of Kings, or like Warner Sallman's famous "Head of Christ," which Harvey and Blum discuss in detail in their book and use on their cover:
Blum and Harvey address the full history of the American Jesus, never depicted by the iconoclastic Puritans who arrived in the 17th century, but coming into artistic prominence in the 18th century, his skin as white as the nation's free inhabitants. For me, the most haunting image from their book is the stained glass window on 16th Street, Birmingham, Alabama. It is the site of the horrific and galvanizing tragedy in 1963 when the church was bombed and four little girls died. The stained glass remained intact—except for Christ's face.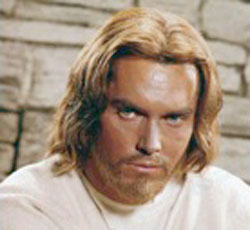 In the prologue of The Color of Christ, the authors quote James Baldwin: [If Christ has no face, then we must] "give him a new face, a new consciousness, and make the whole ideal, the whole hope of Christian love a reality."
Blum and Harvey describe the scope and importance of their book quite accurately:
When Christianity's premise of a divine incarnation in the particular bodily form of Jesus collided with the American obsession with race, representations of the holy became crucial for the nation's identity and struggles. Moreover, individuals have worshipped Christ figures which looked little like them. (19)
The authors also acknowledge the place of the Church of Jesus Christ of Latter-day Saints as "part of a broad and sweeping revolution." Mormons "were part of and participated in the birth of the white American Christ," they claim (77).
As a Mormon deeply involved in race issues, I am aware of the particular relevance of Mormonism to their thesis.
Only two weeks ago, I invited a thirteen-year-old girl of African lineage to accompany me to Genesis (www.ldsgenesisgroup.org ), the Church's support group for Latter-day Saints of African descent, organized officially in 1971 when blacks were still banned from the temple and all privileges associated with the priesthood. I had taken her once before. I thought she'd decline after a day full of meetings. I was wrong. Not only did she accept, she jumped up and down and said, "Yes! Yes! That's the only place I can go where I'm not the only one who looks like me!" It can be hard to be a black child in Utah.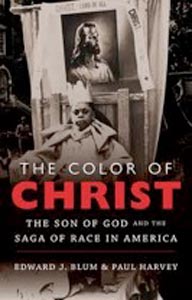 10/21/2012 4:00:00 AM