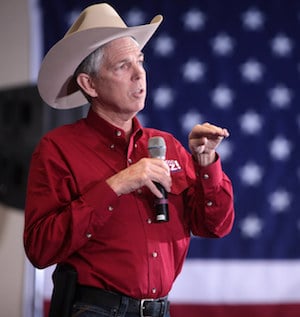 David Barton (b. Jan. 28, 1954) is a U.S. Christian evangelist and author.

After graduating from Oral Roberts University in 1976 with a BA in Christian Education, Barton taught math and science at a Christian school for eight years. He founded Specialty Research Associates in 1987, renaming it WallBuilders the following year with the goal of supporting the idea that the United States was founded as a Christian nation and telling the stories of "America's forgotten history and heroes."

Barton has authored more than 20 books, including The Jefferson Lies, mostly focused on his interpretation of the founding and history of the United States as a Christian nation. He was named one of America's 25 most influential evangelicals by TIME magazine.

Barton has been active in Republican politics in his home state of Texas, serving as vice-chair of the state GOP and heading "Keep the Promise," a political action committee in support of Texas Senator Ted Cruz's 2016 Presidential campaign.

Barton is included on the Extremist List of the Southern Poverty Law Center for his strong anti-gay views.

Praised by many prominent GOP politicians including former U.S. Rep. Michele Bachmann and Arkansas Governor Mike Huckabee, Barton has nonetheless been heavily criticized by trained historians and was characterized in the New York Times as a "biased amateur who cherry-picks quotes from history and the Bible." Conservative historians have condemned his work as "unsupportable" and a "serious misrepresent[ation]" of fact. Barton replied on the WallBuilders website that his critics were "academic elitists" who consider themselves the "sole caretakers of historical knowledge."

After professional historians noted multiple factual errors and misquotations in Barton's 2012 NYT Bestseller The Jefferson Lies, Christian publisher Thomas Nelson pulled the book from distribution. It was subsequently republished by World Net Daily Books in 2016.

Barton lives with his wife in Aledo, Texas and has three grown children.
Patheos on David Barton
WARREN THROCKMORTON
FRIENDLY ATHEIST
Image by Gage Skidmore CC BY-SA 2.0 via Flickr
5/14/2018 1:21:13 PM