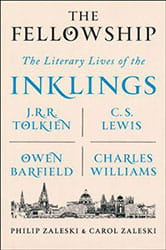 It is The Year of the Inklings. Again. Few groups in literary or religious history have received more attention that the Oxford Christians — broadly understood — or the Inklings, that small male enclave centered around C. S. Lewis and J. R. R. Tolkien, two of the most popular and influential religious writers in history. In the past few years, Lewis has been the subject of a great new biography by Alister McGrath, and his imaginative works explored in a marvelous study by Rowan Williams, and this year, again, we see new books on the influence and work of Charles Williams, Owen Barfield, et. al. on the shelves. Chief among them this year are The Fellowship, the best-selling literary biography of the Inklings by Carol and Philip Zaleski, two of America's foremost writers on religion.
The Fellowship received a starred review in Publishers Weekly, and was one of their most anticipated biographies of the year. It should be well anticipated: the book is a substantial gift, reflecting years of study, thoughtful appreciation, and critical engagement. In this exclusive interview for Patheos, the Zaleskis explain their attraction to the Inklings and help us understand why one more book on the group matters.
The Inklings — especially C.S. Lewis and J.R.R. Tolkien — have oft been written about, including a couple of new books out at this moment alongside yours. What prompted the two of you to write about these figures? What did you think that you particularly could bring to this study that hadn't been offered yet?
There is a vast body of scholarly writing about Lewis and Tolkien, and a growing body of work on Barfield, Williams, and others in their circle. We entered this stream because we admire these authors, have been inspired by them, and have lived with them on and off for our entire adult lives.
The Fellowship is the most detailed birth-to-death biography to date of the four authors taken together, and provides the fullest treatment of Owen Barfield (whose thought was barely touched upon by Humphrey Carpenter). It is not intended to take the place of the major biographies and reference works on the individual Inklings. We will be pleased if it is seen as a worthy complement to other studies of the whole group — such as Humphrey Carpenter's The Inklings, from thirty years ago; Diana Pavlac Glyer's The Company They Keep; and Colin Duriez's several books on Lewis and Tolkien (including a new book called The Oxford Inklings). Our bibliography and endnotes, amounting to nearly a hundred pages, testify to the vigor and extent of Inklings studies. And there are more works on the horizon, including forthcoming biographies of Joy Davidman and Charles Williams. The Road of Inklings scholarship goes ever on and on!
What we brought to this study that is not found elsewhere is our personal appraisal of the Inklings' literary legacy and spiritual and cultural significance. We present this appraisal in the context of a synthetic vision of the narrative arc of these four extraordinary lives — a vision that took shape over many years as we combed through the primary sources, their letters, diaries, reviews, essays, works of historical and philological scholarship, fictional writings, scribblings and drawings. Our aim, above all, was to produce an engaging and entertaining literary account of these four scintillating minds (bodies included).
Rowan Williams described your book as "sympathetic but not uncritical," which, as we might expect, is a lovely and accurate judgment. You write with awareness and admiration of the gifts, shortcomings, and accomplishments of the Inklings. What do you think is their greatest accomplishment, particularly viewed from our vantage point of half a century or more? What most surprised you in the writing of the book?
It's hard to choose just one greatest accomplishment, since the Inklings were far from monolithic and had no conception of themselves as a formal movement. Tolkien's great achievement was The Lord of the Rings and the mythology with which he infused his tale, with its invented languages, consistent nomenclature, deeply worked out geography, and spiritual depth. Nothing on this scale had ever been done before; and nothing quite like it has been done since, even though it has certainly galvanized the imagination of a great number of the most creative writers, artists, and filmmakers of our times. Lewis's greatest achievement was his recovery of "old Europe" — his communication in an extraordinary variety of genres and idioms, scholarly, popular, and imaginative, a fully realized, culturally rich, deeply humanizing Christian worldview. Barfield cured Lewis of his "chronological snobbery" and went on to write fascinating studies of the "evolution of consciousness" as evidenced by the history of words. Williams — how to describe his accomplishments in a sentence? — wrote compelling "supernatural shockers" and developed a characteristic "Romantic theology" in which Dante and 20th-century esotericism played almost equal parts.
7/1/2015 4:00:00 AM