Mumford and Sons, Babel
It entered the charts at Number One in the States, Britain, and Canada, and while it didn't chart a new musical direction for the popular folkies from London, it didn't need to. By turns rousing and musing, Babel explores love, life, and faith; and while it's hard to tease out a coherent theological vision—Rolling Stone's Will Hermes writes that "Babel is full of all manner of religious shoptalk, with Biblical metaphors swirling like detritus in a Christopher Nolan film"—the individual moments and the whole offer powerful lessons. Lead singer Marcus Mumford, the son of prominent British evangelical Christians, has written another set of songs informed by the language of spirit, songs about sin, repentance, forgiveness, and redemption, and whether we hear them as secular or spiritual songs, they offer us wisdom. In "Holland Road," perhaps a story about a break up, the Mumfords offer us haunting lines about loss and hope:
But I'll still believe, though there's cracks you'll see,
When I'm on my knees, I'll still believe,
And when I've hit the ground, neither lost nor found,
If you'll believe in me, I'll still believe
In the first single, "I Will Wait," we don't know whether it is a girl or God referenced in the line "Well you forgave and I won't forget," but in a sense, it doesn't matter. As has been said of U2, you can hear these as love songs to a human being, or to a Supreme Being. The band invites us to spiritual encounter, whether in the title track ("Cause I know my weakness, know my voice/I'll believe in grace and choice") or in songs like "Ghosts that We Knew," which asks "Give me hope in the darkness that I will see the light." Hope in the darkness is a huge thing to proffer; this band does so in music that engages and uplifts, and I am grateful.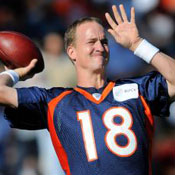 Peyton Manning/Robert Griffin III
Pro football is the most popular sport in America, and despite a year littered with debris—a tragic murder/suicide, a scandal centered on a bounty program run by the New Orleans Saints targeting opposing quarterbacks, and a continuing stream of bad news about concussions and their long term health effects—two of the most compelling storylines in the NFL are Peyton Manning's Denver comeback from neck surgery and the ascendancy of the Washington Redskin's Robert Griffin III. Manning, long an iconic figure in the game, missed the entire 2011 season and was released by the Colts, who feared he might never return or might be substantially diminished if he did. All Manning has done with his new team, the Broncos, is to lead them to dramatic victories, a division title, and to what The Sporting News calls "the best season of his illustrious Hall of Fame career." Meanwhile, as of this writing, Griffin's jersey is the most-purchased in America, and the press coverage is never-ending, both within and outside the Beltway. A few games ago, when it looked as though the Redskins were completely out of the playoff picture, Griffin urged his teammates to believe that they could achieve something memorable together—and despite the odds, they have ridden Griffin and a newly-tenacious defense into playoff contention.
When weighed against all the storylines of greed, violence, and dysfunction in our culture in particular and in sports in particular, these two players offer inspiration through their embodiment of hard work and hope. :::page break:::
12/18/2012 5:00:00 AM