June 22, 2009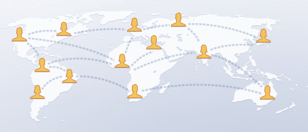 While a television show can be a group event, the internet tends to isolate individuals with their computers. Are Facebook and other internet social networks affecting family time? Researchers at the University of Southern California have found that people are spending less time with their families. While the study, which took place at The Annenberg Center for the Digital Future, did not directly link the rise in internet-based social applications with the decline in family time, senior researchers hypothesized the connection based on other data. In 2008 the average monthly hours people spent with their families decreased by almost a third from the average for 2000-2005. [photo from www.facebook.com]

Combining prayer and advocacy, the National Hispanic Prayer Breakfast and Conference meets this week in Washington, D.C. The Conference connects Hispanic religious and community leaders with policymakers on Capitol Hill in order to address issues such as immigration reform and the recent increase in hate crimes against Hispanics.
Also in D.C., President Obama extended benefits (but not health care) to gay partners of federal employees on Wednesday, and everyone has an opinion. A limited victory for gay-rights advocates, the move has been denounced by some Christian leaders who believe it is a step toward legalizing gay marriage. One Evangelical leader in Idaho, however, has decided to address the issue a different way. Though he considers homosexuality a sin, Tom Munds will join the Boise Pride Parade in order to show Jesus' love for gays and to display a banner about homosexual recovery programs.

Focus on the Family's new CEO, Jim Daly, is also finding his own style of leadership after James Dobson resigned as chairman of the board this spring. Comparing himself with Dobson, Daly said, "He's black and white -- a scientist. That's a good thing. He's provided clarity for the culture. For me, it's more about having a conversation with people." The media ministries of Focus on the Family have a global audience of 230 million people. [photo from FocusontheFamily.org]

Focus on the Family and PBS, the Public Broadcasting Network, may seem on opposite ends of the spectrum, but in reality PBS has been airing religious services for years. Last week, however, a proposal to ban all religious programming came before the PBS board. They decided to compromise, banning new religious programs but allowing existing shows to continue. PBS stations have long had a policy of "noncommercial, nonpartisan and nonsectarian" material, but the guidelines have been loosely interpreted. Some member stations are even operated by religiously affiliated groups, for example Mormons in Salt Lake City and Catholics in New Orleans. These and many other PBS stations regularly air religious services such as the popular Catholic "Mass for Shut-Ins." The board also decided that PBS stations may sponsor religious programming on digital TV or on the web as long as they do not use the PBS name. The ban on new religious programming will not affect journalistic coverage of religion or commentary about religious issues.
1/1/2000 5:00:00 AM