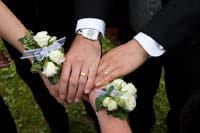 Are Conservative Christians Shifting on Same-Sex Marriage? The View from Long Beach
By Lilly Fowler, May 11 2009
During a conversation at Covenant Presbyterian Church in downtown Long Beach, Calif., a city with one of the largest gay and lesbian populations in the country, Pastor Rob Langworthy admits that the members of his congregation don't always see eye to eye on the issue of same-sex marriage. But, he says, they don't let that get in the way of the church's overall mission.
"We have a passionate commitment to help low-income kids stay out of gangs, do well in school and become productive citizens," Langworthy said as a diverse array of dozens of children played both inside and outside the building. "And that consumes a lot of our energy as a church, and so, we bracket our political disagreements."
Tall, lanky and sporting a white mustache, Langworthy is well aware that his view on gay marriage isn't popular among many of his former Ivy-league school colleagues or, even now, among some members of his congregation.
"I think society has a vested interest in marriage," he said. "I think it's best for children to be raised in the yin and yang of having a male parent and a female parent. I think that society also has a vested interest in stable relationships."
California's Prop 8 may have passed in November, but the battle to legalize gay marriage is far from over in the state. A ballot initiative to un-amend the state's constitution may be in the offing, and the uproar recently created by "Miss California," otherwise known as Carrie Prejean, in this year's "Miss USA" beauty pageant is evidence that the issue still has legs--and plenty of kick.
"We live in a land where you can choose same-sex marriage or opposite marriage," Prejean said on national television, while competing for the title. "And you know what, I think in my country, in my family, I think that I believe that a marriage should be between a man and a woman. No offense to anybody out there, but that's how I was raised."
Some argue Prejean's comments cost her the crown; indeed, organizers of the pageant have publicly condemned her statement.
But while the "Miss USA" pageant captured the public's -- and the media's -- attention, comments made recently by a few key religious and political leaders indicate that some conservatives are ready to move past the issue of same-sex marriage and are calling for their fellow travelers to join them.
In a recent interview with the Washington Blade, Steve Schmidt, chief strategist for Sen. John McCain during the Republican presidential campaign, stated he supported gay marriage. And the resignation late last year of Richard Cizik, vice president for governmental affairs of the National Association of Evangelicals was at least partly a result of Cizik's reconsideration of his view on gay marriage.
"I'm shifting, I have to admit," Schmidt said in an interview with Terry Gross on her national public radio show "Fresh Air." "In other words, I would willingly say that I believe in civil unions. I don't officially support redefining marriage from its traditional definition, I don't think."
The increasingly nuanced analysis of people like Cizik, an evangelical Christian, arguably represents the leading edge in a broader cultural shift on the issue of same-sex marriage. Will evangelical Christians, currently the leaders of the anti-gay-marriage movement, continue to supply the energy opposing the kind of change we're seeing in Iowa, New England and elsewhere? Or is Cizik representative of a growing number of evangelical Christians whose perspective on homosexuality is changing?
According to a recent poll by "Faith in Public Life," a majority of young white evangelicals (52 percent) favor either same-sex marriage or civil unions--a sharp contrast to the 61 percent of older evangelicals who oppose any kind of legal recognition for same-sex couples. Apart from the simple fact of generational change, that shift may also reflect a greater degree of interaction between a more mobile, socially networked cohort of young evangelicals and people who are different from them in terms of both worldview and sexual orientation. "Knowing someone who is gay is closely linked to greater acceptance of same-sex marriage," policy researcher Pam Chamberlain notes in an article--"Younger Evangelicals: Where Will They Take the Christian Right?"--in the current issue of The Public Eye.
1/1/2000 5:00:00 AM