Here's one way:
Photo: Pentecost, Chris Shreve, 20th c.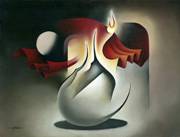 Next Sunday, May 31st, is the Feast of the Pentecost: http://www.newadvent.org/cathen/15614b.htm . This is the last day of the Fifty Days of Easter, and in fact, the word Pentecost comes from the Greek for "the fiftieth (day)." It actually derives from the Jewish Feast of Pentecost, which marked the end of the grain harvest and the giving of the Law on Mount Sinai, and was celebrated fifty days after the Passover: http://www.newadvent.org/cathen/11661a.htm . The liturgical color is red, because of the Holy Spirit, described in the 2nd chapter of the Acts of the Apostles as tongues of fire. The Paschal candle should be lit at all Masses and liturgical celebrations. The sprinkling rite may be used at Sunday liturgies in place of the Penitential Rite.
Here are the readings for next Sunday: http://www.usccb.org/nab/readings/053109b.shtml
The liturgical books also suggest an expanded Vigil of Pentecost, akin to the Easter Vigil, so that the Fifty Days of Easter starts and ends in similar fashion. However, unlike the Easter Vigil whose character is baptismal in nature, the character of the Pentecost Vigil is that of the Church at urgent prayer for the coming of the Spirit: http://www.canticanova.com/planning/year-a/plnpve_m.htm
If you choose to "do the Vigil," the readings are different: http://www.usccb.org/nab/readings/053109a.shtml However, the Lectionary does provide the option of using the readings from the Mass of Pentecost at all the weekend Masses.
Finally, the sung Easter dismissal with its Alleluias is used at all the Masses. Don't speak this, any more than you would speak Happy Birthday or the National Anthem. If the presider or the deacon can't sing it, better to give it to a cantor to intone, than to speak it yourself....the nature of the acclamation is musical...
Consider having a server or deacon carry out the Easter candle at each of the Masses, and after the last Mass, relocate the Easter candle to the place it will occupy throughout the rest of the year.
Here are a few good sites for exegesis (an explanation of what the Biblical texts are trying to say):
http://liturgy.slu.edu/PentecostB053109/main.html
http://www.textweek.com/yearb/pentecdb.htm
http://www.rc.net/wcc/readings/may31.htm
Preachers, any good homily starters for Pentecost? How do you get ready? Share your thoughts and suggestions on our discussion board:
http://www.patheos.com/Engage/Discussion-Forum.xml?plckForumPage=ForumDiscussion&plckDiscussionId=Cat%3a31dfef4e-4821-423a-b66d-9def1f179027Forum%3aedd52e41-e3b1-4454-8f35-c1177c016b93Discussion%3ae1daee1d-b123-415f-8e4d-e84aa270f802

General Liturgical Resources:
cf Living Liturgy 2009 http://www.litpress.org/Detail.aspx?ISBN=9780814627464
Sourcebook, 2009 http://www.ltp.org/p-1795-sourcebook-for-sundays-seasons-and-weekdays-2009-the-almanac-for-pastoral-liturgy.aspx
Companion to the Calendar: http://www.amazon.com/Companion-Calendar-Mary-Ellen-Hynes/dp/1568540116
General Preaching Links:
http://www.religiousresources.org/directory/cat.php?cat_id=84
http://www.catholicpreaching.com/
http://www.homilies.com/
http://www.preachingcoalition.org/
http://www.domcentral.org/preach/cathresources.htm
http://www.catholiclinks.org/homiliasenglish.htm
1/1/2000 5:00:00 AM