By Daneen Warner - June 9, 2009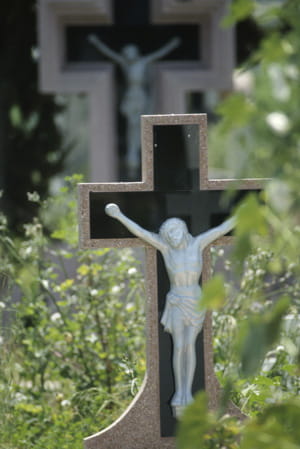 A few years ago, while a chaplain intern at Duke University Medical Center, I remember the promotional slogan, "At Duke There Is Hope," prominently displayed throughout the entire healthcare system. However, I soon found myself quietly re-stating this slogan as: "With God There Is Hope." Due to its multitudinous placements, I would slip into a centering prayer around my re-stated slogan while dashing from one critical situation to the next.
Upon reflection, I realized that my deeply rooted Catholic perspective on hope affected not only my pastoral presence, but also my fundamental beliefs about life and death. On the other hand, I encountered - and continue to encounter - many Christians and non-Christians, both clergy and laypersons, who do not seem to make this connection between God and hope. Instead they seem to buy into the culture's deceitful siren call to deny human mortality and to entrust their hope for immortality to healthcare professionals, clinical procedures, and pharmaceuticals. What is the Catholic perspective on death and dying when viewed through the lens of hope in the Divine?
In considering this question, it is important to acknowledge that death is difficult. Jesus himself faced this difficulty as he prayed on the Mount of Olives: "Father, if you are willing, remove this cup from me; yet not my will, but thine be done" (Luke 22:42). Notice how Jesus first acknowledges the difficult human condition, laments it, and then places his unconditional hope in his Father.
Thus, Jesus dies a most miserable "bad" death when viewed through the political, cultural, and religious lenses of his times. However, Jesus dies a glorious "good" death when viewed through the lens of hope in the Divine - a hope that transcends the human condition and all its vulnerabilities. Furthermore, through Christ's perfect act of love in accepting death on the cross, Christian death becomes a "good" death that takes on a positive meaning in the sacrament of baptism.
Due to baptism, Christians have already "died with Christ sacramentally, in order to live a new life; and if we die in Christ's grace, physical death completes this 'dying with Christ' and so completes our incorporation into him in his redeeming act" (Catechism of the Catholic Church, 285).
"Do you not know that all of us who have been baptized into Christ Jesus were baptized into his death? Therefore, we have been buried with him by baptism into death, so that, just as Christ was raised from the dead by the glory of the Father, so we too might walk in the newness of life. For if we have been united with him in a death like his, we will certainly be united with him in a resurrection like his" (Romans 6:3-5).
Thus, from a Catholic perspective, a "good" death acknowledges human mortality and laments the pain and suffering while joyfully accepting the baptismal promises of faith in Christ, hope of eternal life, and love of God and one another.
In contrast, a person who sees mortality as the greatest evil can become more and more isolated and objectified as he/she strives for human immortality, no matter what the cost. As a result, the cultural deceit of almost promising human immortality brings on tremendous fear, anger, and anxiety as the truth of a person's human finitude becomes more and more apparent - truly a "bad" death.
In summary, the Catholic perspective does not view death as the worst evil and it finds hope in the promises of Christ through baptism. A "good" death follows Christ's example in accepting the truth of human finitude while lamenting human pain and suffering and placing hope in God's good future.

After receiving an MBA from the Wharton School, Daneen Warner spent many years in senior management at Fortune 100 pharma/diagnostics companies. After a change of heart, she began graduate studies at Duke Divinity School where she received both MDiv and ThM degrees. Daneen is a Westbrook Scholar at Duke's Institute on Care at the End of Life and a hospice/palliative care chaplain. Paulist Press recently published her book Life, Death and Christian Hope.
1/1/2000 5:00:00 AM