By Fr. Mike Boutin - June 8, 2009
Photo: Don Quixote, Salvador Dali
"Sanity may be madness, but the maddest of all is to see life as it is and not as it should be." - Don Quixote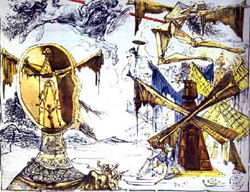 Cervantes's Don Quixote wasn't mad, even as he was sparring with the windmills and professing his unrequited love for the less than noble Dulcinea. Instead, Don Quixote was a dreamer, hoping against hope for a world that was still noble, and filled with chivalry, generosity, and love.
Watch a clip of Bryn Terfel singing "The Impossible Dream" from Man of La Mancha by Mitch Leigh: http://www.youtube.com/watch?v=EG5wRdYcaCc
How do we live with hope in our world today? Sometimes it feels rather hopeless, doesn't it? Our economic system seems to be falling apart, our world is at war, terrorism threatens our most basic commodities, and natural disasters are everywhere and often. People in large cities with huge numbers of people are alone and lonely. Teenagers unplug from life by plugging in their Ipods or the Xbox. Everything we take for granted seems up for grabs...
Where is the hope? Are we just jabbing at windmills? From the cross, Christ says: "In my blood, I have signed my covenant with the world: you are redeemed. Life is worth living.
I am risen from the dead, and my Spirit fills this world with goodness, and healing, and peace. Hope abounds. Share the Good News!"
Christ's message of peace is our gift too. In the midst of the insanity, Christ stands with us, and in us, showing us another way, offering us hope, and leading us to a new world...the world as it should be....and will be.
Now pray....
1/1/2000 5:00:00 AM