By Teresa Blythe - June 16, 2009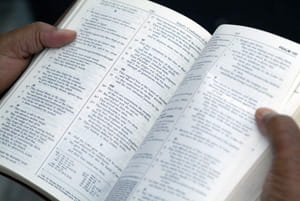 An ancient prayer practice made popular by Benedictine orders is being increasingly used by mainline Christians as a new way to experience the Bible. Lectio divina, Latin for "sacred reading," is a contemplative practice designed to open us to the presence of God through scripture. Since it is meditative in nature, it can serve as a natural complement to the intellectual, historical-critical method of Bible study traditionally practiced by Protestants.
Lectio divina is a simple method that invites us to approach scripture the way we might open a love letter from our beloved. We come to scripture with the desire to be in relationship with God. Begin by reading a short passage, listening for a word or phrase that grabs your attention or seems especially significant in some way, and then meditating and praying with that word or phrase, either silently or aloud.
No one knows the exact origin of this practice. Jewish scholars have been poring and praying over scripture for centuries. Benedict of Nursia (480-547) required members of his Christian order to spend considerable time in prayer with scripture, which is why some people call this a Benedictine practice. It came through the Protestant Reformation by way of Martin Luther (1483-1546) who suggested we read scripture with a "four stranded garland" in mind, with each ribbon representing a way of listening to the scripture--instruction, thanksgiving, confession, and guidance.
The traditional method of lectio divina, as passed down through the history of Christian spirituality, includes the following five steps. You may practice this method alone or with a group.
• Silencio. Begin in silence, turning all your thoughts and desires over to God.
• Lectio. Read a short passage of scripture slowly and carefully, at least twice. Notice any word, phase, or image that seems to have energy for you. It could be a word that invites you; a phrase that puzzles you; an image that intrigues you.
• Meditatio. Sit in silence with your word, phrase, or image. Repeat it gently if your thoughts drift. Ruminate on the word gently, allowing it to sink into your heart deeply. Consider how it connects with your life today. Like Luther, you may want to ponder how it calls you to confession, gratitude, or a new way of living.
• Oratio. Fall deeply into prayer. Be honest with God about your feelings. If you desire, write in a journal. Name your word or phrase. Draw your image. Write about how God is present to you now.
• Contemplatio. Rest silently in the presence of God. Move beyond words, phrases, or images. Enjoy the freedom that comes in contemplation.
Try the steps above with this scripture from Matthew 28:16-20:
Now the eleven disciples went to Galilee, to the mountain to which Jesus had directed them. When they saw him, they worshiped him; but some doubted. And Jesus came and said to them, "All authority in heaven and on earth has been given to me. Go therefore and make disciples of all nations, baptizing them in the name of the Father and of the Son and of the Holy Spirit, and teaching them to obey everything I have commanded of you. And remember, I am with you always, to the end of the Age."
After your prayer is finished, you may wish to take a few minutes to journal about your experience, or share it with a friend or spiritual director. A regular practice of lectio divina can help to deepen your relationship with the Living God by allowing God's words and spirit to dwell more deeply within you throughout the day.
Teresa Blythe is a spiritual director and author of 50 Ways to Pray: Practices from Many Times and Traditions. She is director of the Hesychia School of Spiritual Direction and serves as spiritual director for First Congregational UCC of Tucson.
Additional resources for lectio divina:
Too Deep for Words: Rediscovering Lectio Divina, by Thelma Hall
Lectio Divina: Renewing the Ancient Practice of Praying the Scriptures,by M. Basil Pennington
Lectio Divina: Contemplative Awakening and Awareness, by Christine Valters Paintner
Sacred Reading: The Ancient Art of Lectio Divina, by Michael Casey
Gathered in the Word: Praying the Scripture in Small Groups (Pathways in Spiritual Growth.) by Norvene Vest
1/1/2000 5:00:00 AM