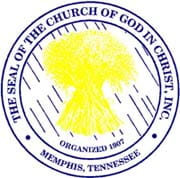 By Glenda Goodson - May 29, 2009
I have been a part of the Church God in Christ all of my life. The older people would say that I was born in the church twice - once through my parents and secondly through my baptism into Christ. Being a third-generation COGIC member, I know the treasure that COGIC is and its rich heritage, which I will outline below. I am one of thousands of women who rush to the Women's Convention each year to receive spiritual refreshment, reconnect with sisters I have not seen since last year, especially women like the Supervisor of Women in South Africa and England, and to receive spiritual instructions from one of the premier groups of women in the world! As a writer and editor with The Whole Truth, the denominational publication, I also cover the convention.
Go to the official COGIC website
Go to the COGIC Women's Department website
JOIN THE DISCUSSION ABOUT THE WOMEN'S CONVENTION
While all Americans celebrate the great men and women who have made the ultimate sacrifice-placing their lives on the line for the freedom we enjoy-a group of some of the most beautiful and beautifully clad African American, African, Haitian, South African and women from some of the 157 countries in which the Church of God in Christ is planted, celebrate the freedom that Jesus Christ provides at the 59th Women's International Convention (WIC) of the Church of God in Christ (COGIC) in Denver, CO.
The Church of God in Christ began as a holiness church in 1897 and reorganized as a Pentecostal body in 1907 after co-founder Bishop C.H. Mason attended the Azusa Street Revival. From its inception Bishop Mason held women in high esteem and four years after establishing the church set the tone for COGIC's empowerment of women when he named Lizzie Robinson as the first General Overseer of Women. After her death the leadership of women was passed to Lillian Brooks Coffey who established the Women's International Convention in 1950 with a view toward "Better Homes, Better Schools and Better World."
The first WIC was held in Los Angeles in 1950 with less than 500 women. According to WIC leaders, Denver has had to open an additional two hotels to accommodate the 18,000 to 20,000 women who have converged upon the city. Unlike some conferences that emphasize world issues and culture wars, women tapped to present workshops focus on the power of Scripture as guides for the lives of homemakers as well as entrepreneurs like COGIC member Valerie Carter Daniels, who has been featured in Essence and Ebony magazines detailing her rise in Burger King and other retails establishments with over 144 franchises.
1/1/2000 5:00:00 AM