By A.C. Weimer
Christians riding the bus in Chicago this week might spill their coffee when they look up to see an ads that says, "In the Beginning, Man Created God." Also including the slogan, "You can be good without God," this ad campaign is sponsored by the Indiana Atheist Bus Campaign, aided by the American Humanist Association.
Other ads, this time on cable television's Inspiration Network, are drawing more serious attention. The evangelist David Cerullo's advertisement for his Christian broadcasting company claims that viewers who send in at least $200 could receive prosperity and healing. The portion of this money that goes directly into Cerullo's $1.5 million dollar salary has concerned Wall Watchers, a charity-monitoring group, to put a "donor alert" on Inspiration Network. Cerullo defends his salary and financial management, arguing he is paid less than most secular cable network executives, and that 80% of donations to his company go directly to spreading the gospel.
Below photo Photo courtesy of www.krisallenfan.com

Also on the topic of television, much speculation in the blogosphere lately has surrounded evangelical worship leader Kris Allen's win over the Jewish (and possibly gay) Adam Lambert in season eight of American Idol. Critics say that Allen's victory was due more to evangelical support than to superior talent. However, Lambert may win out in the end, as the rock band Queen is considering him to be their new lead.
Below photo courtesy of www.adam-lambert.com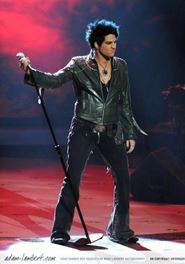 On a more troubling note, two pieces of news surfaced this week regarding Christianity and war. The first was Donald Rumsfeld's intelligence briefings for President Bush, which featured Bible verses on the covers. In the reports, verses such as "Whom shall I send and who will go for us? Here I am, Lord. Send me" accompanied pictures of soldiers marching or praying. Jewish and Christian leaders, as well as scholars of religion, have been quick to say the verses were used out of context.
The second piece of news is more difficult to explain. A Pew Forum survey on views of torture found that more Christians support torture than those who seldom or never attend religious services. White evangelical Protestants were the most likely to support torture, followed by white non-Hispanic Catholics and white mainline Protestants. The survey did not define the word "torture."
Below photo by takomabibelot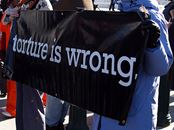 Latino Christians are receiving long-overdue attention as they face difficult political decisions. They have to choose whether or not to follow Reverend Miguel Rivera, head of the National Coalition of Latino Clergy and Christian Leaders, in boycotting the U.S. Census as a way of calling attention to the need for immigration reform. At the same time, the Latino community has been in the spotlight with the nomination of Sonia Sotomayor to the Supreme Court. Sotomayor, a Catholic, on the whole has ruled on the side of religious freedom and is receiving support even from some conservatives.
Whether Latinos come flocking to Obama and the Democrats after Sotomayor's nomination remains to be seen, but if they do they won't be coming officially from Liberty University. Liberty has decided their Democratic Party club, which had 30 members, will no longer be receiving school funding due to the Democratic Party's (lack of) moral principles. The club will still be allowed to meet on campus.
6/3/2009 4:00:00 AM