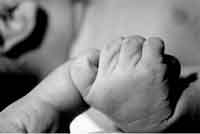 In the days that followed, there was scarcely a moment when I was not acutely aware of the progress of her breathing, the position of her body, the shuddering rise and fall of her little chest. And in the months that followed, since my wife finds sleeping difficult enough already, I slept on a bed beside the crib and took care of my daughter every night. Through the long dark hours of the Boston winter, I held our little girl when she awoke, fed her when she was hungry, and held her upright in a recliner all through the night when reflux burned in her esophagus. It was difficult work (especially since I was writing my doctoral dissertation when I was not in bed), but when my wife offered to give me a night's break I usually refused. Dreary though the hours could be, and frustrating when she would not stop her crying, the truth was that I loved those nights and would not trade them for anything. There was something sweet in knowing that she was beside me, and in knowing that she knew that I was there for her.
What does this have to do with abortion and adoption?
I cannot contemplate abortion now and not remember those nights when we read to and prayed for our little girl in the womb. Consistently, so consistently that it convinced even a skeptic like myself, she responded to the sound of my voice. When she was born, disoriented and weeping, she would grow calm when I spoke the same words in the same voice. There was no magical transformation that transpired in between her life inside in the womb and her life outside. She was alive and human and capable of relationship all along. It is an awesome thing, majestic beyond words, but her formation in the womb was merely the outworking of the design that God had for her from the beginning. She was her in the womb, she was my daughter, and she was as sacred then as she is today.
Secondly, for those who bring their children forth into the world and discern that the children would be better served by other parents at that time, I have enormous respect. My sister is adopted, and I've always wondered what it took for her mother to surrender her. Now I know: it took tremendous love and strength. Love to put her daughter's welfare above her own happiness, and strength to follow through on her heart-wrenching decision. To those who contemplate abortion, I would say this. Wait. Wait and see. You know the person you are now, but you cannot know (as God knows) who you will be when your child is born. God's formative will is at work in her, but also in you. We are never truly ready until the time has come. Endure the stares, endure the discomfort. Do not give up on your child when she is in the womb; give her over after she is born, if necessary, to hands that can carry her better than yours can today.
Finally, I understand the fears that the mothers and fathers of the unborn feel when they contemplate how their children will change their lives. My concern was my own selfishness. I had (and have) so many ambitions, and the thought of the sacrifices required was daunting. Ye remember: "God does not always call the qualified, but he always qualifies the called." From the moment the child is conceived, we are called to be mothers and fathers for as long they are ours -- and God will be faithful to prepare us to fulfill our callings. The new life in my wife's womb was mystically reflected in my heart. In the time of childbearing I was prepared for child rearing. I am still selfish, and I fail her every day, but God has given me the heart that I need to be a father to my daughter. The promise of parenthood will change you, if you let it.
Since we learned of the pregnancy, I have never been the same. Even six months after she was born, whenever I awoke beside her crib, I looked over to make sure her little chest still rose and fell. There's something terrifying and awesome and plainly human, something hidden deep in the inner purposes of God, about having an immense love and care wrapped up in such a tiny, fragile, helpless human form.
This article appears as part of a series on orphans and adoption. Please also see :"Orphan Stories," "Surprised by (a Bundle of) Joy," "A Joy Beyond Expressing," and "God's Care for the Orphan: An Interview with Jedd Medefind."
8/14/2009 4:00:00 AM