By E.B. Solomont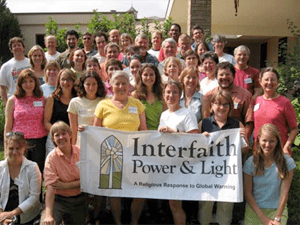 When the new Hillel building at the University of California, Santa Barbara was erected in 2001, administrators and contractors took pains to design an environmentally sound structure. What resulted was a building largely constructed out of biodegradable materials, where lights are motion-activated and there is no air conditioning, although automatic windows open when the temperature gets too high.
While unique, the Santa Barbara Hillel is not alone. As friends of the environment, synagogues across the country are joining an interfaith group of congregations that are lighting their houses of worship with energy efficiency and making other efforts to go green.
Through the Regeneration Project, a campaign to mobilize religious groups in response to global warming, several hundred synagogues have joined the eco-friendly effort. Started in 1998, the campaign has grown to include 23 state-based projects, known as Interfaith Power and Light, aptly named for its efforts to promote renewable energy and sustainability, in many cases simply by swapping a building's light bulbs for more efficient ones. A mega church in Plano, Texas has already saved a half million dollars in utility bills -- and they've only been on the program for less than a year.
Nationwide, there are about 4,000 participatory congregations. Roughly a fifth of them are Jewish, organizers say. "Every major religion calls for stewardship of creation," says Susan Stephenson, executive director of the Regeneration Project. "We recognized that this was a moral issue as well as an environmental one."
This past May, a group of Muslim, Christian, and Jewish religious leaders wrote a letter to the White House and members of Congress, calling for immediate action to limit greenhouse gas emissions. "Global warming is not just a scientific or political issue -- it is a moral issue," Rabbi David Saperstein, director of Religious Action Center of Reform Judaism, wrote in the statement. Other signatories to the letter included Rabbi Arthur Waskow, director of the Shalom Center in Philadelphia and Rabbi Stephen Pearce, the religious leader of Congregation Emanu-El in San Francisco.
Congregation Emanu-El, through its environmental committee, is a leader in synagogue-based green practices. Its "Green Emanu-El" initiative promotes energy efficiency in the building, including zoned heating, plans for efficient lighting and usage, and pollution prevention programs.
"By Jewish law, we are mandated to take care of the earth," a synagogue administrator, Terry Kraus, wrote in an email message. "This is an important social justice issue for our congregation."
This article first appeared in AJL magazine.
9/16/2009 4:00:00 AM