By Elad Nehora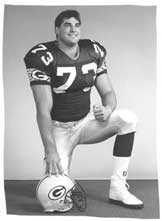 Meet Alan Veingrad. Offensive lineman. Green Bay Packer. Dallas Cowboy.
Champion.
Alan, winner of Super Bowl XXVII as a member of the 1992 Dallas Cowboys, had a great life. "A life that anybody would have wanted," as he put it. He was a gifted athlete with a wonderful personal life. He had grown from a normal kid living in south Florida into one of the most successful athletes in the world.
And yet there always seemed to be someone else beside him. Someone walking with him on his journey from Florida to college in Texas to the Pros. It watched him as he grew up, practiced with him as he groomed himself into a master lineman, it even sat with him as he went fishing. Who was this? Who was watching him, who was practicing with him, who went fishing with him?
Meet Shlomo Veingrad.
Jew.
When Alan was young, he hardly noticed Shlomo. He thought all Shlomo needed was a Bar Mitzvah. All he needed was "the big party. And that was it." When people started asking him questions about Shlomo, he couldn't be bothered. "Why eight days of Chanukah? Not only do I not know, I don't care."
And yet, Shlomo kept by him, kept sitting with him, kept working with him. Every now and then he would peek his head up, often when Alan least expected it. People would tell him things like, "You guys are the chosen ones." Alan could not help but notice Shlomo then and, as he put it, "My pride in Judaism would soar!" It was incidents such as these that helped him realize that Shlomo was a part of him, even if he hadn't quite understood this strange person yet.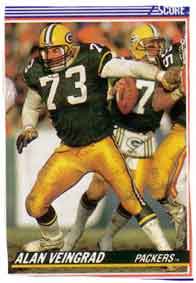 He "always felt that there is something you have to do as related to being Jewish." As time went on, he felt this more and more.
Shlomo kept quiet for much of Alan's life. Shlomo let him grow as a football player, watched as he won the Super Bowl with Troy Aikman. He even cheered him on. All the time, he waited patiently.
And then Alan retired.
Retirement -- A New Beginning
"When you leave the pros, it's a huge transition playing professional football to being a regular guy." Alan, using the discipline he learned from football, "started learning another industry in real estate." He was playing golf, was married with children, and life was "pretty good."
Somehow, though, as time went on, something didn't feel right. Something was missing since he left football. "I was starving for inspiration. As an athlete, I had that, but as a human being I didn't have that." It was not until his cousin invited him to Shabbat that things started to change.
It was Alan's first Shabbat.
Even as Alan ate his "teriyaki salmon, and the chicken and the brisket" and ignored a child at the table giving a speech about what he learned at school that week, Shlomo sat back patiently, waiting for his moment.
At the end of the meal, Alan's cousin invited him to a Torah class. More out of obligation than anything, Alan responded, "I said 'okay', I would go to one class."
As Alan walked into the first Torah study of his life, he could not help but be distracted by the beautiful house he had walked into. Just as at his cousin's house, he was more interested in the material than in whatever spirituality was being offered to him. This time, instead of teriyaki salmon, he was focused on the square feet of the house. This time, instead of ignoring a child, he was ignoring the rabbi.
But this time, something hit him. This time, Shlomo was not waiting around quietly anymore. This time, Alan had to listen. Because this time, the rabbi's words spoke directly to Shlomo through Alan and pulled on both their hearts.
Watch these videos to hear Alan Veingrad's story:
NFL Offensive Linemen Alan Veingrad
"He was talking about materialism. And materialism in your life can lead you to a very shallow existence. And you want that next thing. Once you get that next thing, you'll want another thing. It's just not going to fulfill you. And that's exactly where I was."
The very focus of Alan's life, the very things he was most interested in had suddenly been exposed for what they were. Teriyaki salmon and big houses suddenly didn't seem as exciting. And, surprisingly, the very Torah he had ignored for so long seemed more exciting than he had ever imagined.
10/16/2009 4:00:00 AM