An Interview with Reb Zalman by Leo Brunnick
Article compiled by Talia Davis
Watch the interview here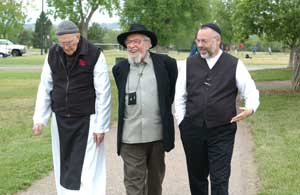 Biography:
Meshullam Zalman HaKohen Schachter was born on August 17, 1924 in Zholkiew, Poland to Shlomo and Hayyah Gittel Schachter. In 1925, his family moved to Vienna, Austria where he spent most of his childhood. His father, a Belzer hasid with liberal tendencies, had him educated in both a "leftist" Zionist high school, where he learned Latin and Modern Hebrew, and a traditional Orthodox yeshiva, where he studied Torah and Talmud.
In 1938, when he was just 13, his family began the long flight from Nazi oppression through Belgium, France, North Africa, and the Caribbean, until they finally landed in New York City in 1941.
While still in Belgium, Schachter became acquainted with and began to frequent a circle of CHaBaD Hasidim who cut and polished diamonds in Antwerp. This association eventually led to his becoming a CHaBaD hasid of the Lubavich branch, in whose yeshiva he enrolled after his family arrived in New York. He received his rabbinic ordination from the Central Lubavitch Yeshiva in 1947.
Within a few years of his ordination, he began to travel to college campuses with his friend Rabbi Shlomo Carlebach, at the direction of the Lubavitcher Rebbe, and took up a post as a congregational rabbi in Massachusetts.
By 1956 he had acquired a Master of Arts degree in the Psychology of Religion (pastoral counseling) from Boston University and taken up a teaching post in the Department of Religion at the University of Manitoba in Winnipeg, Canada, which he would hold until 1975.
In 1968, Schachter had earned his Doctor of Hebrew Letters from Hebrew Union College and was effectively "divorced" from the Lubavitcher Hasidim over issues relating his controversial engagement with modern culture and other religions, but he continued on as an "independent" hasid, teaching the experiential dimensions of Hasidism as one of the world's great spiritual traditions. That year, he was also influential among the group who formed Havurat Shalom in Somerville, MA.
The following year, inspired by Havurat Shalom, Christian Trappist spirituality, and the Dead Sea Scrolls, Schachter founded the B'nai Or Religious Fellowship (now ALEPH: Alliance for Jewish Renewal) with a small circle of students.
A few years earlier, he had also begun to study Sufism and meet with Sufis in California. This eventually led to his being initiated as a Sheikh in the Sufi Order of Hazrat Inayat Khan in 1975. That year he also became professor of Jewish Mysticism and Psychology of Religion at Temple University where he stayed until his early retirement in 1987, when he was named professor emeritus.
A new period in his life began in 1985. That year Schachter (now Schachter-Shalomi) took a forty-day retreat at Lama Foundation in New Mexico and emerged with a new teaching that became the foundation of his book, From Age-ing to Sage-ing, and the catalyst for the Spiritual Eldering movement.
From the earliest days of Schachter-Shalomi's career, he has been involved in ecumenical dialogue with leaders and practitioners of other spiritual paths, from Trappist monks to Sufi sheikhs. These frequent forays into what was then "forbidden territory" led Schachter-Shalomi to describe himself as a "spiritual peeping-Tom." But, far from being a mere browser, Schachter-Shalomi became deeply learned in the most minute aspects of the theory and experiential practice of these traditions, praying matins with the monks and performing dhikr with the Sufis.
This deeply personal approach to "dialogue" led to significant friendships with many of the world's great spiritual teachers, including Father Thomas Merton, Reverend Howard Thurman, Pir Vilayat Inayat-Khan, Ken Wilber, and the 14th Dalai Lama.
The twin peaks of this ecumenical work had to do with the increasingly significant dialogue between Jews and Buddhists. Always sensitive and sympathetic to Jewish involvement in eastern traditions, in 1990, Schachter-Shalomi was invited to a meeting in Dharamsala, India between the Dalai Lama and Jewish leaders to discuss how Tibetan Buddhists might "survive in exile," as Jews had done for almost 2000 years. This dialogue, and Schachter-Shalomi's remarkable influence upon it, became the focus of a best-selling book by Rodger Kamenetz, called The Jew in the Lotus. Immediately, the book became a catalyst for Jewish-Buddhist dialogue and the sensitive issue of why so many American Jews were involved in so-called "Eastern" spiritual paths.
11/7/2009 5:00:00 AM