By Craig Blomberg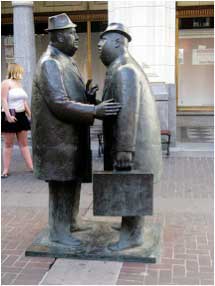 In 1992, Greg Johnson, as president of the Denver Seminary student council, organized a public forum with four of us on faculty responding to different parts of the book Are Mormons Christians?, then recently published by Brigham Young University New Testament professor Stephen Robinson. As an ex-Mormon, Johnson had keen interest in the evangelical scholarly world keeping abreast of key publications by Latter-day Saint scholars, a practice then almost non-existent, at least in New Testament studies. Robinson was invited to the forum as well, but he declined to come, with words to the effect of "I know what evangelicals do in such contexts and see no need to submit myself to Mormon-bashing."
The event was videotaped, however, and a copy of the tape sent to Robinson. When he discovered the irenic tone and scholarly contents of the session, he wrote back and expressed delight, especially with the two younger of the four main presenters. I was one of those two younger scholars. Robinson's reply led to us exchanging letters, phone conversations, and finally meeting at the 1992 American Academy of Religion (AAR) conference. We visited over an extended breakfast at the 1993 meetings. By this time we realized that, although each of us had a broad range of experiences in ecumenical and interfaith contexts and had each received a Ph.D. in New Testament at major universities outside our religious traditions, there was much that we did not understand about the other's faith communities and commitments. We began to wonder if some kind of joint-writing project might be worth pursuing.
To make a long-story short, those early meetings led to the publication in 1997 of How Wide the Divide? A Mormon and an Evangelical in Conversation with Inter Varsity Press. In this book, Robinson and I chose four doctrinal debates that appeared to us to be both the most central and the most divisive between our two constituencies -- scripture, God (including deification), the Trinity (including the person and work of Jesus Christ), and salvation.
We both composed half-chapters on each topic, took turns leading off each chapter, and subdivided our material into three categories: a basic summary of what was generally held by most in our communities on the topic at hand, including acceptable parameters of diversity; frequently encountered misunderstandings of our views, especially by the other group; and final reasons why, even after clearing up misunderstandings, each of us remained unconvinced of the other's perspectives. We also composed a joint introduction to the volume in which each of us wrote one half. At the request of the publishers, we forced ourselves to co-author conclusions to each chapter and a conclusion to the entire book, with wording we could both agree on, in which we summarized our agreements and disagreements.
Response to How Wide the Divide? was overwhelmingly positive in the academy and among ordinary Mormons and Evangelicals who had good friends and some up-to-date, accurate knowledge about the other community. It was severely criticized by the so-called countercult industry within Evangelicalism, by many ex-Mormons, and by some more apologetically minded and/or very traditional Latter-day Saints.
One of those who warmly commended the volume was Rich Mouw, president of Fuller Seminary. At the 1997 AAR meetings he and I visited for nearly an hour about the book and its aftermath. Knowing of his long-standing interest in Mormonism, and of Fuller's track record of interfaith dialogue, I suggested to him that conversations like those Robinson and I had initiated needed to be replicated on a much wider basis and that he would be an outstanding "point person" to spearhead such an undertaking. Around the same time, Greg Johnson, then in ministry at an Evangelical church in Utah, was developing a friendship with BYU religion professor Robert Millet and having many of the same kinds of conversations. They, too, shared the desire to impart the benefits of their dialogues among wider constituencies.
Again skipping over important intermediate developments, what resulted was what has now been a decade-long series of meetings between small groups of Evangelical and Latter-day Saint scholars from among the various disciplines of religious studies. When the AAR and Society of Biblical Literature (SBL) still met together, we were able to convene every year, typically during the Sunday afternoon of the national conference and then met for more extended conversations, usually over a roughly two-day period, alternating between BYU and Fuller Seminary, in early summer. Rich Mouw did indeed become the person to head up the various evangelical "delegations" and Robert Millet functioned in comparable fashion for the LDS contingents.
11/6/2009 5:00:00 AM