By Not Ophelia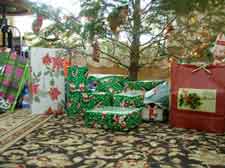 All the recent discussion has prodded me into [finally] doing a post on a near-and-dear-to-my-heart subject -- Christmas Crap.
Perhaps I'm uncommon and overly lucky for an American, but I live in a family where our needs and many of our wants are supplied. We have a house that's heated in the winter, air-conditioned in the summer. We have food, coats for the winters, shoes for our feet, and hooded sweatshirts for our teens.
We have a computer, board games for Family Home Evening, a piano to sing around, a subscription to Netflix for entertainment, and a [nothing-fancy] TV to watch them on. We do trips here and there, camps in the summer, and the occasional travel to see the far-off relatives: you get the picture.
So Christmas comes and then what? I guess we're not good at the gift things, because if we need something we budget for it and get it when we need it; we rarely save it for Christmas. Wants don't always follow a nice seasonal pattern either, though we'll get things for the kids -- the gift is that they don't then need to use their own allowance. And me? I can think of things I want, but these things are either really lame [no teen would be caught dead buying it], made up, or don't land within the allowance budget of a young person. My kids are beyond the 'make Mommy a flowerpot out of clay for Christmas' stage. And subsidizing the gifts our kids give us [me for my husband's gift, he for mine] always struck me as a bit bizarre, though we've done it anyway. Plus, well, how many non-immediate family gifts involve something the person really wants?
:::newsletter:::
But Christmas needs presents, so we guess and give some, we receive a lot and we smile. And at the end of it all we end up with a pile of things -- objects whose primary purpose is to keep the great god economy satiated, despoil the environment, and fill up the nooks and crannies of our house with, well, crap.
And it's not just expensive crap, either. I can and have thought of lots of creative, inexpensive, and great gifts for the kiddos. But no matter how inexpensive, great, and creative, at the end of the day you still have to get it, store it, tend it, stack it, clean it, and deal with it until the day you send it off to a new home via Goodwill.
Even if you buy a serious McMansion, the stuff that creeps in will still eventually fill your closets and take over your life, especially if you still have little ones. I know. We recently mindfully downsized our life and I was amazed at what we had hidden away in the closets and attic and basement of our old place: Stuffed animals, Legos, wooden toys, old sleds, our eldest's first toy. Lots of old gifts. I guess I was saving them for the grandkids. I never want to do that again. Nor do I want to foist it on someone else in the name of Christmas.
Enter some ruminations, some solutions, and some alternatives.
Most of our problems with Christmas crap happened when the kids were little; i.e., when the far-away grandparents would lavish stuff on their seldom seen grandkids. We never felt comfortable telling them to cut it out. The only thing that helped was to, frankly, open their gifts before Christmas, re-wrap the good stuff, and give the rest to Goodwill. Drastic but necessary Christmas triage. Of course this only worked if we weren't having Christmas with family.
It's gotten better as the kids have gotten older and the grandparents have retired. Quality has replaced quantity and, frankly, pre-teens and teenagers are harder to shop for. There's lots of little crap you can buy a 3-year old, but much less that you can buy older kids. They are opinionated and really, the only thing they want from their grandparents these days is a gift card to Borders Bookstore. One set obliges, the other doesn't. Sometimes those other gifts are okay, but mostly we get a great deal of eye-rolling or hilarity out of them.
We've tried to start looking for alternatives to counteract the consumerism of the season. One idea was to get away from traditional gifts find a family gift in the true spirit of the season: i.e., giving to those who can't give back.
The first is an old favorite: Heifer International. Heifer is an organization that buys and delivers farm animals to the neediest and poorest people on the globe. As a Heifer supporter you can give the gift of rabbits or a flock of chicks or a llama or a goat or, well, a heifer in your own or another's name. The family who receives the animal has the obligation to pass on some of the animal's offspring to their needy neighbors. This allows them to 'pay forward' and also become a solution to the world hunger problem. Here's an interesting bit from their history FAQ:
12/17/2009 5:00:00 AM