Best Chanukkiahs
To be Kosher, a chanukkiah must have all the candles at the same level except the shamash (the helper candle). Here are some of Patheos' favorite chanukkiahs!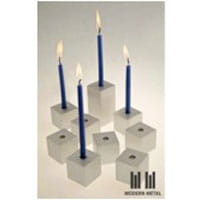 Trendy -- The Modern Metal Menorah from ModernTribe.com.

Stunning -- The Stainless Steel Flame Menorah from ModernTribe.com. This Menorah is stunning and designed by an Israeli industrial designer.
Most Affordable and On The Go -- Menorah Cork from ModernTribe.com. Perfect for college students or people who travel!
Best Jewelry/ Gifts for Women
Gents, you can't go wrong by getting your lady (or mom or sister) one of these beautiful and fun pieces!

The Protect Me! bracelet from Alefbet.com by Paula. A beautiful piece that offers the wearer a bit of extra protection with the blue stones and hamsas.

Polli Tree of Life Earrings by ModernTribe.com

"I am my beloved's" by Popjudaica.com. A perfect gift for your wife or girlfriend. Inside you will find a declaration of love from the "Song of Songs" as written by King Solomon.

Silver hamsa with orange stone from JudaicaHeaven.com.

Israeli scarves from IsraeliScarves.com. These stunning scarves are shot through with silver threads and very affordable!
Simple Cotton Scarves from Tznius.com. We love these! Basic colors, durable, and really affordable!
Best Gifts for Men
Okay ladies, think your guy has everything? I bet he doesn't have these!

It's Pronounced Yarmulke t-shirt from ModernTribe.com.

"Christ, That's Good Beer" t-shirt from Schmaltz.com. What does G-d say when he drinks Shmaltz? "Christ, that's good beer." A must have!

He'Brew 16 oz. pint glasses from Schmaltz.com. The Chosen Beer for the Chosen People!
12/8/2009 5:00:00 AM