By the Rev. Barnabas Sprinkle
Presbyterian News Service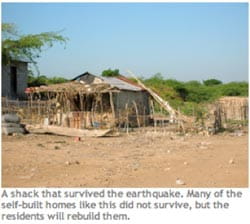 It started out as a loud rumble, as if a semi truck were driving next to our building. Then came the shaking: solid concrete rippling like water under our feet and all around us.
As we looked at one another in pure shock, students across the walkway screamed -- and suddenly we were running in a great mass, scampering down the stairs, seeking the safety of the courtyard below.
On January 12, I was on the island of La Gonave in Haiti, in the bay outside Port au Prince, as part of an eleven-person mission team from three churches in Greater Atlanta Presbytery, which has partnered with Haiti for more than 20 years.
We arrived on Friday, January 8, and had already taught dental hygiene and administered fluoride treatments to students, and tested eyes and distributed eyeglasses to adults.
On that Tuesday afternoon, we were relaxing and looking forward to checking in with recipients of micro-loans the next day.
Just before 5:00 p.m., the earthquake struck. When it quieted, we could not see any destruction around us, and offered a prayer of thanks. We wondered whether the earthquake had been stronger elsewhere. Should we fear a tsunami?
Cellphones were out. The operational radio stations had only piecemeal information, and only after the dust cloud settled.
Two hours later, as we huddled with Haitian students around a small radio, the announcer identified building after building with the Creole term "kraze," meaning "crashed" -- the presidential palace, the U.N. embassy, the Episcopal cathedral, the Catholic cathedral. We all stared at the radio in horror.
When the Montana Hotel was named, I impulsively replied, "But what about our reservations?" We later chuckled at my self-centered response, but it belied a cold fact: had the earthquake occurred two days later, our team would have been among the victims.
Our Haitian hosts were much closer to the tragedy. Everyone around us seemed to have family in Port au Prince, and information came slowly, through intermittent communications.
Our team's main concerns were simpler: how could we tell our families that we were uninjured, and how would we get home?
We slept in the Episcopal rectory, rather than our second-story accommodations, feeling the aftershocks. Others chose to sleep in the courtyard outside, fearing another quake. Every aftershock was cause for alarm. Yet even in our anxiety, we knew others were lifting us in prayer.
Meanwhile, caring Presbyterians back in Atlanta had sprung into action. Though voice communication was down, somehow a text message got through to one spouse that we were unharmed. Barb Wirth, a veteran of previous Haiti mission trips and wife of First Presbyterian Church of Atlanta's pastor George Wirth, became a communication hub.
She relayed regular reports to the team's families and churches, and arranged for a private plane to collect us. The lone doctor in our group, Dr. Jim Ingvoldstat, bravely opted to remain and assist with triage. (Click link to read his account).
The rest of us flew out on Friday morning, January 15, (dodging a donkey on the airstrip on La Gonave), and craned our necks for our only eyewitness view of Port au Prince.
For me, this trip redefined the term mission. After the earthquake, I had a deep sense of helplessness. We had gone to serve as missionaries, and became a mission, dependent on our hosts for food and water, dependent on our friends to get us home.
Yet I still believe God had a mission for us in Haiti.
In the days after the earthquake, we sought to be what Henry Kingman called "a benediction of God's presence." We played with children and prayed for families. We held a celebration for surgery recipients, among the wails of those who had lost loved ones.
Mission means "sent-ness," the purpose to which God has placed us wherever we are. This trip potently taught me that our primary calling is to be God's people in any circumstance.

This article appeared at the Presbyterian News Service and is reprinted with permission.
The Rev. Barnabas Sprinkle is a member at-large of Greater Atlanta Presbytery.
1/22/2010 5:00:00 AM