By Anthony Chiorazzi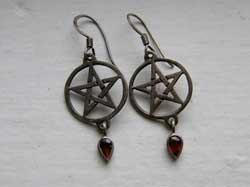 Tom Cornwell had a secret stashed in the ottoman of his Savannah, Georgia, home. A former Jehovah's Witness elder and minister for twenty years, he worshipped the Egyptian goddess Isis. Cornwell, 62, thought his secret was safe -- until his devout Jehovah's Witness wife announced she'd found his cache of witchcraft books.
Cornwell (not his real name) came out of the pagan closet to her that night, and says she took it better than expected. "I think the Goddess was watching over me," he says.
A year later, he studies with a Wiccan coven and is a member of Savannah Pagan Meetup. Cornwell, who still hasn't come out publicly about his beliefs, says he joins a growing number of pagans in the South peeking out of the broom closet. Three years ago, only one pagan group reigned in Savannah; today nine exist, says Stevie Kirby, organizer of Savannah Witches and assistant organizer of Savannah Pagan. "It's not easy being a pagan or a witch," says Kirby. "And it doesn't help if you're in the Bible Belt," he sighs. Kirby says members of his group have lost their jobs, had their cars and homes vandalized, and been beaten and chased out of their residences because of their religious beliefs.
Broadly defined, pagans are believers who are not Jewish, Christian, or Islamic. A more common meaning is polytheism associated with folk religions or the occult, such as Wiccans and Neo-druids. Kirby claims that pagans are on the rise in the South. He says that in 2006 Savannah Witches had 91 members, and today the group has more than double that amount. And in a new book, Generation Hex, religion researchers Dillon Burroughs and Marla Alupoaicei write that according to some estimates, by 2012, Wicca will be America's third-largest religion. "But one thing all pagans share," says Kirby, "is a desire to live their faith, grow their community and be understood."
Meet A Cowboy-Witch
A Confederate flag drapes the back window of an old pickup truck parked on the side of a dusty country road outside of Little Rock, Arkansas. Calling himself Southern Magic for this interview, a cowboy hat and boot flaunting twentysomething lounges in the back of his truck with his girlfriend and fellow Wiccan, Morning Star.
"I'm a cowboy-witch with a lot of Druid and Celtic influences," the green T-shirt-clad Magic declares, sounding almost like a sommelier describing the flavor profile of his favorite wine. "The three things I love the most are the Confederacy, my pagan path, and horses," he says as he tries to kiss the black lip-glossed but suddenly affronted looking Star. "And also my girlfriend," Magic adds as she permits the kiss.
Magic, who says he once had a knife pressed to his throat and was beaten and tossed in a dumpster for admitting he was a witch, insists that three years ago the only pagans he knew in Arkansas were himself and Star. "But little by little, more and more are coming out," he says.
First up, explains Star as she pulls out a book of spells from a black felt bag she calls her witch sack, "most pagans don't even believe in the Devil." Wicca honors the nature-based deities and celebrates the change of the seasons, she says.
1/21/2010 5:00:00 AM