By David Crumm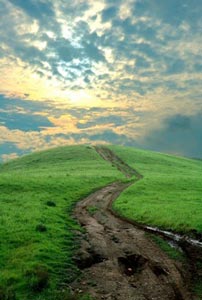 What does heaven look like? The question is timeless and universal, although terms for "Heaven" vary around the world. It's one of the core questions of human existence: Is there anything beyond this life? Does what I'm doing in my life matter -- ultimately?
Bishop John Shelby Spong, the best-selling author of provocative books about faith, has just published what he's calling his "last book." It's called Eternal Life: A New Vision. "Bishop Spong" -- as he's known around the world -- is infamous for "controversy." As a religion writer for American newspapers since the 1980s, I've interviewed Jack Spong many times both in the U.S. and in other parts of the world -- and the news stories we published always seemed to include either that c-word or words like "provocative," "protest," "dissent," and "debate."
In most cases, those terms were dead-on accurate. Jack Spong is a bold pioneer or, in religious terms, he's a fearless prophet. Unlike millions of religious leaders who are timid about expressing their own doubts and questions, fearing that they might unsettle their congregations, Jack Spong always speaks his mind. Sometimes he speaks his mind so strongly that he flat-out offends people. 
I've heard stories from mutual friends in recent years of Jack occasionally spouting off-hand comments so acidic that it's hard not to take offense. But, today, I am defending his right to speak out because I understand some of his restlessness.
He's a man of great faith who is impatient with history and with his own mortality. He's seen a whole lot of positive change in his lifetime, but he's impatient when he still witnesses the exclusion of people from the community of faith -- or finds old biases and bigotry resurfacing in new guises. 
He bravely speaks out as a lightning rod for many people who feel that the religious dogmas they've inherited simply don't fit our world anymore -- but don't know quite how to raise the questions. Jack has a gift for articulating those questions and many persuasive answers, as well. You may completely disagree with him! Many people do. But you shouldn't ignore him. He's a font of provocative spiritual ideas. (There's that p-word!)
 Now that he's 78, Jack is thinking a lot about -- well -- he's thinking about what he describes in the title of his new book as: "Eternal Life."
Here are the highlights of our conversation with Bishop Spong On "Eternal Life."
I've always loved your sense of humor! In the opening of this new book, you actually apologize for not dying earlier! It's sort of a Mark Twain twist, I'd say. You write, "This is my fifth 'final book.' I have even written my autobiography. One is supposed to die after an autobiography is either written or published. I did not do that."
 So, is this one truly your "last" book? Or your "last" last-book? 

(Laughs.) I think I've had the best retirement anybody's ever had. I've grown more professionally and personally in these years. I feel totally fulfilled. My wife works closely with me on these enterprises. She manages my schedule and she's my primary editor and I just adore her. I retired in 2000. Then, I taught at Harvard. I've lectured around the world. I continue to write and to hear from readers all around the world. I turned 78 in June, so I'm in my 79th year of life. And it's a wonderful life. 

Well, I think it's terrific that we're getting some of the most important new books this year from people well up in years. We just welcomed Harvey Cox to ReadtheSpirit and Harvey's now 80 as he gives us his latest book, The Future of Faith. This certainly is an affirmation of the spiritual gifts of aging, I would say. 

2/11/2010 5:00:00 AM