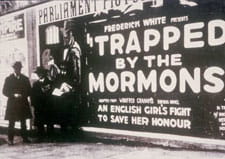 Mormonism has arguably been the most cinematically engaged religious movement in the history of motion pictures. The Church of Jesus Christ of Latter-day Saints and its members have been involved with filmmaking since the medium's beginning. The first motion picture to feature Latter-day Saints was the Spanish-American War actuality Salt Lake City Company of Rocky Mountain Riders, 1898.
The Church has actively sponsored filmmaking since at least 1912 with Church-owned motion picture studios in operation from 1915 to 1929 and from 1953 to the present. These have been complemented by a wide array of film engagement:
an immense broadcasting apparatus of television and radio stations;
a strong program of television spots for both religious proselytizing and secular outreach that has won dozens of CLIO's, Emmys, and other awards;
a Church-sponsored noncommercial film distribution system that began with film exhibitions in meetinghouses in the 1910s and developed through the use of satellite, VHS, DVD, and internet technology;
the extensive use of motion pictures in instruction for Sunday Church meetings, weekday religious classes, missionary teaching, and even sacred temple ceremonies;
and a popular Mormon culture immersed in film, whether the screening of populist Hollywood films like the Three Stooges in the once ubiquitous "ward movie nights" to the Church's own productions like Johnny Lingo (1969), Windows of Heaven (1963), Man's Search for Happiness (1964), Mr. Krueger's Christmas (1980, with Jimmy Stewart), and more recent works like Legacy (1993) and Joseph Smith: The Prophet of the Restoration (2005).
Since 2001 an annual LDS Film Festival has screened hundreds of short films and several dozen features, with over 7,000 patrons in attendance in 2009. At present, the Mormon Literature and Creative Arts Database lists 4,613 films connected with Mormonism. This suggests the number of Mormons actively engaged in the film and television industries of various countries.
Perhaps the best-known Mormon-made film of recent years is Napoleon Dynamite (2004), but Mormons have been working as directors, screenwriters, actors, editors, cinematographers, and in every other position since the early 1900s. Mormon filmmakers also created what became the Sundance Film Festival, and Mormon technicians, businessmen, and bureaucrats have been notable in a variety of ways -- including Philo Farnsworth, the inventor of television; Harvey Fletcher, the chief creator of stereophonic sound systems; Nolan Bushnell, who developed Pong and co-founded Atari; and Rosel H. Hyde, who as a two-time FCC Chairman oversaw the creation of the NTSC video standard.
The history of Mormon cinema can be broken into five periods, or waves, of roughly twenty-four years each, with the Fifth Wave now entering its second decade.
The First Wave (1905-1929):
The Clawson Brothers and the New Frontier
This period coincides roughly with cinema's silent era (before the introduction of synchronous soundtracks). Films in this period divide fairly distinctly between sensationalist pictures aimed at exploiting Mormonism's peculiar history -- the so-called "anti-Mormon film," with titles like A Victim of the Mormons (1911), A Mormon Maid (1917), and Trapped by the Mormons (1922) -- and somewhat propagandistic films made in response to these by both the Church itself and individuals sympathetic to it.
Both types of pictures were shot on 35mm black-and-white film and were generally released to a paying public in commercial cinemas. Notable films include One Hundred Years of Mormonism (1913, now lost), one of the longest and most elaborate films made to that point. Also noteworthy is the prolific documentary work of brothers Shirl and Chet Clawson, grandchildren of Brigham Young, for the Church from 1915-1929, which now constitutes an irreplaceable visual record of Church history from that era.
The Second Wave (1929-1953):
Home Cinema
This period has sometimes been considered a hiatus in Mormon filmmaking, though this is a misinterpretation that is becoming increasingly apparent. Pioneering work in filmstrips, radio, and hitherto unheralded motion pictures was laying the groundwork for all future institutional filmmaking. Depictions from outside the Church were fewer but kinder in their representations, as in Henry Hathaway's Brigham Young (1940) and John Ford's Wagon Master (1950).
3/2/2010 5:00:00 AM