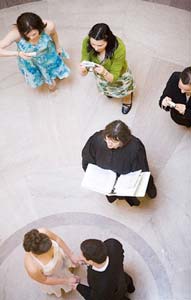 For some people who are forced to make a choice between their religion (which often incorporates their family and community) and the person they love, marriage is fraught with challenges and heartache. For others, however, marriage is the ultimate reconciliation ceremony -- bringing together the best elements from two religions and cultures.
Mark*, a Christian, had no qualms about marrying Jocelyn, a Buddhist, in a traditional Buddhist marriage ceremony. "The day was all about celebrating our love, and the symbols we used to illustrate this were appropriate and inoffensive. Buddhists don't prevent people from marrying if they aren't both Buddhists. I liked the attitude. Our friends participated in the traditional ritual of pouring water on our hands to unite and support us. We had a group of Thai monks who led a wonderful chant. I think our friends enjoyed the novelty and were surprised that a ceremony that was completely different to anything they had seen before could still be so moving. However you choose to do it, marriage really boils down to two people making a commitment to a life together."
Whereas Mark's parents were supportive of his decision to forgo the traditional Christian wedding ceremony, for others the decision to marry a person from a different faith is not so easy. Sarah was brought up by her Orthodox Jewish parents to understand that she was expected to marry a Jewish man. But she met Peter, a Catholic, and fell in love.
"When we first started going out, I kept it a secret from my parents," recalls Sarah. "I knew they would be devastated, especially my mother. She had said to me on numerous occasions that she wouldn't be able to cope if I ever decided to marry out of the Jewish faith. She'd made it very clear that if I went down that road, I would be going it alone."
The would-be marriage posed a problem for Peter's parents, too, who are strict Catholics. "They were worried that many of the traditions that we take for granted, like celebrating Christmas, would be impossible. My mother was concerned that we had decided that our children would be brought up knowing both faiths but practicing neither. We believe by giving our children the facts and celebrating all the important rituals of both religions they will be able to make a choice for themselves," says Peter.
While the road to matrimony was not always smooth, Peter and Sarah won both sets of parents over with their determination and obvious love for each other. Sarah explains, "Basically there was a point where our parents realized if they made us choose between them and each other, we would choose each other. Once they really understood we were going to get married and spend a life together and have their grandchildren -- with or without their blessing -- they all realized they'd better shut up and accept it. It made it easier that we had been going out for years before we got married so they had a lot of time to get used to the idea. Also my parents came to realize they absolutely loved Peter and they could see how much I loved him and how happy he made me."
For their wedding, Peter and Sarah decided a celebrant would marry them and that they would include components of both the Jewish and Catholic traditions. "We got married in a park by a celebrant. During the ceremony, Peter's father read a Christian prayer and my father explained the significance of some of the Jewish elements, like the significant of the Chuppah (the wedding canopy) and the smashed glass."
When Jeanette, a Christian from Australia, married Taddis, a Shinto Japanese, they didn't just incorporate elements from both cultures, they held two separate weddings. They had a Shinto marriage ceremony in Japan where Jeanette wore the traditional Japanese wedding kimono, wig, and make-up, and a Christian ceremony in Australia where, although already legally married, she walked down the aisle on her father's arm wearing the white wedding dress and veil.
"My wedding preparations took me a year," remembers Jeanette. "The Shinto ceremony was followed by a party with all our Japanese friends and the Christian wedding was a big reception with about 200 of our Australian friends. We'd kept it secret from our Australian guests that we were already married because we thought it might seem weird to them."
For Jeanette, the different traditions that accompanied her two weddings were important. Both cultures and religions were acknowledged. Neither Jeanette nor Taddis felt that their own culture was being compromised or unrecognized. It was also an opportunity for both sets of parents to celebrate the marriage of their children in a way with which they were comfortable.
4/28/2010 4:00:00 AM