By Bruce Epperly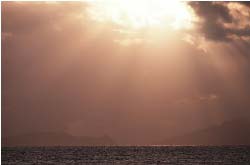 When I was a child, my mother made my brother and me memorize Bible verses on a weekly basis. I have to admit that we didn't take this practice too seriously, even though, at the height of the Cold War, my mother counseled us, "If they take away your Bible, you'll still have the word of God imprinted in your mind." We often sought out the shortest verses, like "Jesus wept," as the focus of our memorization practice.
Today, I have reclaimed the practice of Bible memorization but with a different twist. I call this practice "affirmative faith" or "spiritual affirmations." In fact, over the past decade, I have written two books -- The Power of Affirmative Faith and Holy Adventure -- that place affirmations at the heart of progressive and moderate Christian spiritual practice. I have been inspired by the Apostle Paul's own affirmations: "Be not conformed to this world, but be transformed by the renewing of your mind" (Romans 12:2) and "Whatever is true, whatever is honorable, whatever is just . . . think about these things"(Philippians 4:8). In the spirit of the positive psychology movement, the use of affirmations transforms both the conscious and unconscious minds. Affirmations are also central to new spiritual movements such as attitudinal healing, pioneered by Jerry Jampolsky and Susan Trout, and inspired by A Course in Miracles.
By repeating healthy affirmations or positive statements about ourselves, others, and the world, we begin a healing process that encompasses every aspect of our lives -- mind, body, spirit, and relationships. Put simply, affirmations are positive statements, said in the present tense, that reflect a spiritual truth related to our lives. They do not deny the challenges of life, but place them in a larger and healthier perspective.
Every morning as I begin my sunrise walk, I affirm that, "This is the day that God has made, I will rejoice and be glad in it." My day already begins with a sense of gratitude, joy, and openness. I then ask, "What great thing will happen in my life today?" I am ready at the break of dawn to embark on a holy adventure, and I'm seldom disappointed, though often surprised.
In Holy Adventure, my response to Rick Warren's Purpose Driven Life, I describe a spiritual practice that includes affirmations, visualizations, and adventurous actions. Some of the scriptures that I invoke in support of, and inspiring of, an open-spirited, creative, adventurous attitude toward life are:
In the darkest valley, God is my companion. (Psalm 23:4)
Wherever I go, God is with me. (Psalm 139:7-12)
God breathes in me and all things; I praise God with every breath. (Psalm 150:6)
I am the light of the world. (Matthew 5:14)
Christ is with me in the storms of life. (Mark 4:35-41)
My faith is making me whole. (Mark 5:34)
Jesus is breathing in and through my life. (John 20:22)
God is transforming my mind. (Romans 12:2)
God speaks to me in sighs too deep for words. (Romans 8:26)
In all things, God is working for good in my life. (Romans 8:28)
Nothing can separate me from the love of God. (Romans 8:39)
The good work God has begun in my life, God will bring to fulfillment. (Philippians 1:3-11)
I can do all things with Christ who strengthens me. (Philippians 4:13)
God will satisfy all my needs. (Philippians 4:19)
Each day, I transform my mind through the practice of affirmative faith. In challenging situations, affirmations remind me of God's presence and protection. When I am tempted to live in accordance with scarcity thinking and self-imposed limitations, affirmative faith opens me to a greater vision of God and myself and awakens me new possibilities for life-transforming action. You can customize your affirmations to a particular life situation, or create non-biblical affirmations to transform your experience and the world.
The beauty of affirmations is that they transcend doctrinal differences. They can be used by liberals and conservatives, and progressives and evangelicals, to open us to our own and each others' gifts, to God's resources in our lives, and to God's ever-present creativity and care.
Listen to your life: where do you need transformation? What affirmations might help you experience God's vision for your life and the world?
Bruce Epperly is a professor and administrator at Lancaster Theological Seminary and co-pastor of an open and affirming emerging congregation - Disciples United Community Church -- in Lancaster, PA. He is the author of sixteen books, including Holy Adventure: 41 Days of Audacious Living, a progressive spiritual response to Rick Warren's Purpose Driven Life.
4/30/2010 4:00:00 AM