By Mark Malseed

It takes a bit of searching to find Sergey Brin's office at the Googleplex. Tucked away in a corner of Building #43 on this sprawling campus near the southern tip of San Francisco Bay, past rows of colorfully decorated cubicles and dorm-like meeting spaces, Office 211 has a nondescript exterior and sits far from the public eye. Although it takes several twists and turns to get there, his office is not protected -- as you would expect for the cofounder of a $150 billion company -- by a Russian nesting doll's worth of doors and gatekeepers.



Sergey, 33, shares the space with his Google cofounder, fellow Stanford Ph.D. dropout and billionaire pal, 34-year-old Larry Page, an arrangement that began eight years ago in the company's first humble headquarters in a Menlo Park, California, garage. Since then, Google has grown from just another Silicon Valley startup into the world's largest media corporation; in fact, based on its recent stock price of $513 per share, Google, which has made searching the Web easy and even fun, is larger than Disney, General Motors and McDonald's combined. It achieved these lofty heights by revolutionizing how people surf the internet: Before Sergey and Larry analyzed the links between web pages to deliver search results speedily based on relevance, looking up information on the Web was a shot in the dark.

Stepping through the sliding glass door into their office is like walking into a playroom for tech-savvy adults. A row of sleek flat-screen monitors lining one wall displays critical information: email, calendars, documents and, naturally, the Google search engine. Assorted green plants and an air purifier keep the oxygen flowing, while medicine balls provide appropriately kinetic seating. Upstairs, a private mezzanine with Astroturf carpeting and an electric massage chair afford Sergey and Larry a comfortable perch from which to entertain visitors and survey the carnival of innovation going on below. And there is ample space for walking around, which is absolutely essential for Sergey, who just can't seem to sit still.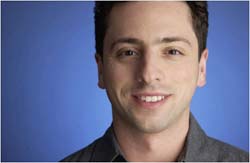 Trim and boyishly handsome, with low sloping shoulders that give him a perpetually relaxed appearance, Sergey bounces around the Googleplex with apparently endless energy. He has dark hair, penetrating eyes, and a puckish sense of humor that often catches people off guard. A typical workday finds him in jeans, sneakers, and a fitted black T-shirt, though his casual manner belies a serious, even aggressive sense of purpose. This intensity emerges during weekly strategy meetings, where Sergey and Larry -- who share the title of president -- command the last word on approving new products, reviewing new hires, and funding long-term research. Sergey also holds sway over the unscientific but all-important realms of people, policy, and politics. Google's workers enjoy such family-friendly perks as three free meals a day, free home food delivery for new parents, designated private spaces for nursing mothers, and full on-site medical care, all of which recently led Fortune magazine to rank the company as the #1 place to work in the country.

The co-presidents share management duties with Eric Schmidt, a seasoned software executive whom they hired as chief executive officer in 2001 to oversee the day-to-day aspects of Google's business -- in short, to be the "adult" in the playroom. But they have no intention of ceding control. Since day one, they have resisted outside meddling, preferring to do everything their own way, from opting to piece together computers on the cheap (and build a computer casing out of Lego blocks) to flouting Wall Street in an unconventional initial public offering.

Blazing one's own trail comes naturally to Sergey. The Moscow-born entrepreneur and his parents have been doing it their entire lives.

On December 16, 2005, 16 months after the company's high-flying initial stock auction, Google closed its biggest deal yet: a $1-billion advertising partnership with America Online, the popular internet service provider.

That evening, by coincidence, I am meeting with Sergey's parents at their home in the suburbs of Washington, D.C. Michael Brin, wearing a black fleece vest emblazoned with the multicolored Google logo, greets me in the driveway. I ask if he has heard the big news. "We spoke with Sergey earlier today and he didn't mention anything," he tells me. "He did say he was on his way home from yoga."

Michael, 59, a mathematics professor at the University of Maryland, and his wife, Eugenia, 58, a research scientist at NASA's Goddard Space Flight Center, are gracious and down-to-earth and still somewhat astonished by their son's success. "It's mind-boggling," marvels Genia, as family and friends call her. She speaks slowly, in a syrupy, Russian-accented English that quickens when she is competing with her husband. "It's hard to comprehend, really. He was a very capable child in math and computers, but we could have never imagined this." Michael, in his milder accent, adds with typical pragmatism, "Google has saved more time for more people than anything else in the world."

They sit me down at the dining room table, clearing off papers to make space for a spread of cheese and fruit. The room itself is simply decorated, even sparse; the only signs of wealth I can see anywhere are a big-screen TV in the living room and a Lexus in the driveway.
5/20/2010 4:00:00 AM