By Ralph Marston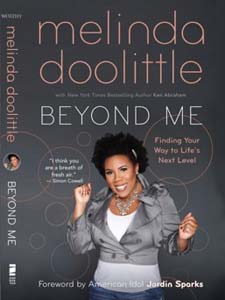 Beyond Me: Finding Your Way to Life's Next Level
By Melinda Doolittle with Ken Abraham
Zondervan, $18.99, 192 pp.
In any competition, the person who finishes in first place receives pretty much all the glory and attention. Whoever comes in second gets a little bit of acknowledgement as a key participant in the final drama, and then is all too quickly forgotten. But what about third place? Does third place even matter at all? Is there anything positive to carry away from a third place finish?
For Melinda Doolittle, third place is just great, thank you very much. To her mind, there is plenty of value to be gained from finishing third. In fact, for Melinda Doolittle there is plenty of value to be gained from every single moment of life, whatever the outcome. And she's just as thrilled as can be to tell the world about it in her autobiographical Beyond Me: Finding Your Way to Life's Next Level.
Doolittle's most noteworthy competitive drama to date played out on live television before millions of viewers during the sixth season of "American Idol" in the spring of 2007. Coaxed by a friend to try out, she advanced through several initial auditions and then on to the show itself, where she finished in third place for the season, the last person to be eliminated before the finale. That's not bad for a young lady who as a child had been so tone deaf that her choir director asked her to lip synch in lieu of singing.
Though she includes a satisfying number of mostly humorous behind-the-scenes anecdotes from her "Idol" experience, this book is not a gossipy tell-all. Rather it is a celebration of good old-fashioned positive values. It's the story of how a girl, raised by a single mother, discovers and follows her passion without ever compromising her integrity. It is sweet, open, honest, filled with gratitude and enthusiasm. "American Idol" judge Simon Cowell, notorious for refusing to tolerate any nonsense, picked up on Melinda's infectious enthusiasm and authentic talent early on, telling her "it is very, very nice that you are actually enjoying every second you are having on this show."
That joy, authenticity, and wide-eyed enthusiasm for life shine through on every page of this brief and inspiring book. This is a story that's just as much about how and why she got there as it is about Melinda's experience on "American Idol." She candidly describes the defining inner conflict that led her to audition for "Idol" in the first place. Delighted to have worked her way into the music business as a competent and sought-after background singer, Melinda tells how she wrestled with whether or not to take her talent and ambitions to the next level as a lead singer. She's not afraid to admit she was tempted to stay in her comfort zone, to continue literally hiding herself on stage behind the lead singers with whom she performed.
It's a conflict with which people from all walks of life can identify. And that speaks to why the book is so inspiring. She's clearly one of us. Though we first met her when she was projected into our homes in 60-inch high definition widescreen with surround sound, Melinda Doolittle is not some mythic figure. In her book we meet the real person, with real-life insecurities and challenges, continually working to balance her priorities and stay true to her values.
Instilled largely by her mother, to whom the book is dedicated, those positive values have played a key role in every aspect of Melinda's life. She recounts numerous episodes in which she realized, in pragmatic and memorable ways, the importance of persistence, dependability, treating people with respect, being able to handle criticism, and being of service to others. One legacy of her participation in "American Idol" is her continuing involvement with Malaria No More, an organization providing mosquito nets to children in Africa. In a particularly inspiring story, she describes how she traveled to Zambia to publicize the cause, observe the distribution of nets, and meet some of the children.
With anecdotes from her childhood, her school years, and her early career as a background singer, Melinda illustrates the life lessons that have shaped her as a person. She readily admits her initial resistance to many of those lessons. During college, when her voice instructor suggested that she tone down her vibrato, Melinda at first was offended. But after listening to some recordings of herself, she realized her instructor was right. Not only did she take that particular advice to heart, she also learned a valuable lesson about responding to criticism.
6/24/2010 4:00:00 AM