By Alyce McKenzie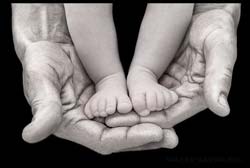 Luke 11:1-13
The parable of the friend at midnight is one of several parables that only appear in Luke. The Prodigal Son and the Good Samaritan are two others unique to Luke's gospel. Before the parable comes the Lord's Prayer, which emphasizes Jesus' close, prayerful relationship with God envisioned as Father. After the parable comes an exhortation to persevere in prayer to God.
If you came and stood on my front step and rang the doorbell, you might not notice the little tiny glass circle just above it. You might not realize that it's a door camera. Whenever someone rings the doorbell, the phone rings three times. We can then turn any of the TVs in the house to channel 17 and see who is standing on the porch and decide in advance whether to answer or not. It saves lots of trips up and down the stairs.
It also provides the kids and me with hours of entertainment. We have our own personal reality show. We call it "Front Porch." It's like visual caller id. Knock. Knock. It's an eight-year-old girl in a green dress with a sash covered with badges. I've consumed two boxes of samoas and three of thin mints in the past six days. No answer.
Oh, look -- there is a florist's truck at the curb and the florist standing there with flowers. That's an answer!
And there is a nervous looking young man in a tuxedo holding a corsage. The girl on the couch next to me, dressed in that lovely prom gown, jumps up and starts to run to the door, then catches herself and begins to walk in a statelier manner. This is a definite "answer the door."
You couldn't get away with not answering the door in a 1st-century Palestinian village. You wouldn't grumble and try to get out of giving bread to the friend at midnight standing on your door, either. Everyone in the village baked their bread at the village oven. They all know who has fresh bread. He's the one. The custom is that you serve fresh bread to company. Plus the houses were so close together that when the needy friend stands on your doorstep pounding on your door at midnight, everybody up and down the street knows they're there and you're not getting out of bed to help them. To grumble like this would bring shame on one's family and one's village. And nobody in that village 2,000 years ago would want to be the one to destroy its reputation for gracious hospitality to travelers with their grumbling.
Today is Father's Day. It is a day when we stand on our father's doorstep and offer him thanks. How do you thank a good father? With a card and an invitation to lunch? With a cordless drill, a Weber grill, or a hobby tie? Those are the three most popular Father's Day gifts this year.
My father was a tall man with dark hair, a great sense of humor, and a great love for his children. He was really patient when we were sick. When I was little and sick, he would gather me up on his lap, wrap me in a blanket, and rock me in the rocking chair, and say, "Miss Alyce, I'd take this big bad sickness from you if I could."
When his liver cancer, after a year of remission, came back in 2002, it was my turn to say to him, "Dad, I'd take this big bad sickness from you if I could." "Hey," he said, "That's my line." He was in a bed with metal rails set up in his study at the back of the house. The wonderful hospice saints were coming every day. The night before he died, in the early hours of morning, my husband and I each sat on either side of his bed in the darkened room, praying. On my side, I found myself repeating a prayer over and over again. An ancient prayer. A prayer that tells us so much about God in so few words: "Father, hallowed be thy name. Thy kingdom come. Give us this day our daily bread. Forgive us our sins."
I'm not a father. I'm not a perfect mother. But I recognize a good father when I see one. A good father, in terms of our parable, is someone you can count on to come to the door and offer you nourishment when you show up on his doorstep. A good father offers you an egg or a fish, not a snake or a scorpion. A good father is someone who, though he has caller id, still answers the phone when you call and offers you encouragement.
My husband Murry is a good father. We have three children, two daughters in their 20s and a son who is 17. They call to chat with me. But when they have a problem, for some reason, it's "Can I talk to Dad?" Our son is on his way to soccer practice at a different field than usual. He calls our landline: "Hi Mom, I'm lost, I need Dad." Our daughter called Friday, "Hi, hon," I said. "Mom, this is serious. I need to talk to Dad. This girl just backed into me in the parking lot at school and her car is scraped down the side, but it wasn't my fault." Our oldest daughter, who is getting married in October, calls, "Hi Mom. I'm fine. I need to talk to Dad. The Botanical Gardens say we can't set up any folding chairs on the grass, so where are people going to sit? And they say they won't refund my $400 deposit. I need to talk to Dad."
6/15/2010 4:00:00 AM