By David Crumm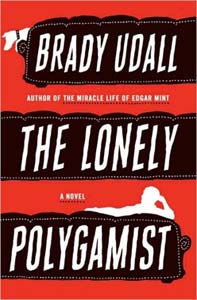 David Crumm of ReadtheSpirit, interviews Brady Udall, author of The Lonely Polygamist, about his Mormon faith, his relationships with real polygamist families, and his ideas about religious portrayals in literature.
This is a novel about a very big Mormon family. You're from a famously big Mormon family yourself. So, let's start with your place in your own family tree. Your great-great-grandfather was David King Udall, a polygamist. More than a century later, the family tree now includes a former U.S. Secretary of the Interior and U.S. Senators. The "Udall family" page in Wikipedia is the only Wiki biography I've seen with an actual family chart on the page! So, where are you in that sprawling Udall family tree? The boxes in the Wiki chart only show the politicians.

My father is Barry and my grandfather is Keith. Keith is the first cousin to Mo and Stewart who are the ones most people might know.
Do you know them or the senators? You're a journalist and a novelist and you've had years of experience in national media. Have you crossed paths with these politically famous Udalls?

No, they're just my relatives. We're just blood. That's it. The family is so huge that we rarely even run across each other. The ones I run across are my hundreds of first cousins, aunts, and uncles. I've never been involved in politics at all.
But now, every day when I'm traveling to talk about the book, I get asked this question: "Do you know this Udall? That Udall?" I always say: "I'm related to all of them, but I don't know half of them."
When I began reading Lonely Polygamist, Carl Hiaasen and his comic novels about Florida came to mind. Hiaasen paints these sprawling portraits of good-hearted people caught up in dysfunctional families and communities, spiraling out of control in comic ways. But, in the end, you always know Hiaasen loves Florida and loves his central characters. Is that a fair thing to say about you and your part of the country?

That's an absolutely fair thing to say. I won't write a novel about people I don't love, and by that I mean people I understand and respect and want to know more about. This is a dysfunctional family I'm writing about, trying to survive on the fringes of things, but yes I do love these people. I am aware of Hiaasen and I've read some of his shorter pieces, but I haven't read his novels. I do know he's funny and people enjoy his books so I am flattered by that comparison.
Well, you can't read a Hiaasen novel and not get into essential Florida settings like the Everglades. There's a compelling sense of place in his novels. I immediately got a strong sense of place from your novel as well. You're rooted in that often strange and sometimes threatening Western landscape that's the heart of the Mormon world. Like Hiaasen, you populate your landscape with these endearingly quirky people.

I do live out in the intermountain West. I live in Boise, Idaho, and we spend time between Boise and a little town called Teasdale in south-central Utah where we spend summer months on the edge of Capitol Reef National Park. It's one of the least-known parks, but it's terrific. So, I do know this landscape and there are lots of people out here who make great characters in novels. If you're looking for people to put in a book like Lonely Polygamist, it's pretty easy pickin's out here. I know these people.
This prompts me to ask, are you a polygamist yourself?

(Laughs!) No, not at all.
Your book-jacket mini-biography says you're married and have children.

Yes. One wife. Four kids.
We've already mentioned that you're part of a famous family in the Church of Jesus Christ of Latter-day Saints. We probably should point out here that polygamy has long been condemned by the mainline Mormon church. But tell me about your own relationship to the church.

I'm in an odd place for a Mormon. I value it. I have always been a Mormon and I will always be a Mormon. For me it's like what I hear Catholic or Jewish friends describe. You can't easily say: I'm not Mormon anymore. It's a part of your whole life.
I've reported on the LDS church over the years. I've spent time in Salt Lake City reporting on the church's global operations and I've got a lot of respect for many of the things Mormon leaders have done to strengthen communities. So, I know the mainline church is different than the polygamist offshoot in your novel. But tell me more about your own personal relationship to the LDS church. For example, do you participate regularly in temple rites? That's something a Mormon in good standing might do as a regular part of life.

No, I don't do that. It's hard to describe this to non-Mormons. I know Presbyterians who go to church three times a year and consider themselves good Presbyterians. It's not like that for Mormons. You can't get away with that kind of inactivity. I do go to church about half the time, but that's not considered sufficient in the LDS church. I'm trying to sit on the fence without sliding off it one way or the other.
6/24/2010 4:00:00 AM