By Stephen Schwartz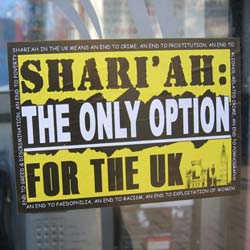 On October 28, 2009, Luqman Ameen Abdullah, an African American Muslim, was killed in a shootout with agents of the FBI in Detroit. The dead man was one of twelve individuals sought for firearms violations and conspiracy to engage in theft and fraud. But they were also members of a little-known Islamist network dedicated to the establishment, through violence if necessary, of an enclave on U.S. territory to be governed by Islamic religious law, or Shariah. Their designated candidate to rule this separatist territory was the prominent black nationalist known in the 1960s as H. Rap Brown, and now as Jamil Abdullah Al-Amin, who at the time of the Detroit incident was serving a life term without parole at the U.S. federal prison in Florence, Colorado, for murdering a police officer in Georgia (along with other charges).
The conspiracy to establish Shariah in a secessionist enclave within America never, it seems, became a practical attempt. But fantasies of introducing Shariah in the United States have gained increasing attention as American society has come under assault, both globally and domestically, from radical Muslims. The most widely acknowledged case of Shariah imposition so far known originated at the Minneapolis-St. Paul International Airport, and was revealed to the wider public in 2006. There, immigrant Somali Muslim cabdrivers would not take airport arrival passengers carrying alcohol or accompanied by dogs (including guide dogs for blind customers), on the grounds that for them to do so would violate Shariah. The Muslim drivers had begun their boycott on liquor and dogs about ten years previously, and airport customers had complained about the situation. In one incident sixteen drivers successively declined to carry "objectionable" passengers. The Somali cabdrivers applied to the Metropolitan Airports Commission for authorization to refuse service on religious grounds without being sent to the back of the airport taxi line and losing opportunities to make money.
The Metropolitan Airports Commission rejected the petition, but proposed a supposedly moderate compromise: drivers who would not carry alcohol or dogs could have a special light installed on their cabs indicating their enforcement of a ban. The commission produced this "solution" after consultation with the Muslim American Society (MAS), a radical Islamist group that favors introduction of Shariah into the United States. But while the commission imagined it was deliberating and acting fairly, the proposal for special taxis for Muslim drivers had potentially disastrous consequences. A public agency would have, for the first time, established a Shariah law interpretation on public property in the United States.
After deliberating, however, the commission found against the Somali cabbies and denied their request. The old rules continued in place: drivers who refused customers went to the back of the line. But nothing had been done to actively restrain the drivers from their discriminatory actions.
Americans have also recently learned of so-called honor murders committed by Muslims in the United States, and generally believe such crimes, usually carried out against family members, are a Shariah-based practice.
Early in 2009, Muzzammil Hassan, 44, an immigrant from South Asia, was charged with second-degree murder in the killing and decapitation of his 37-year-old wife, Aasiya. The couple were prominent in the American Muslim community as proprietors of Bridges TV, a television station near Buffalo, New York, that broadcast Muslim content. Aasiya Hassan had complained to local authorities of domestic violence and had filed for divorce, obtaining a "stay-away" order against her husband. At the time of writing, Muzammil Hassan awaited trial in his wife's death. The crime seemed to many observers to be a so-called honor murder.
On October 20, 2009, an Iraqi immigrant girl, Noor Almaleki, age 20, was run down and killed by a Jeep allegedly driven by her father, Faleh Hassan Almaleki, 48, in an Arizona suburb. The father fled the United States but was captured in London. Reporters learned that Almaleki had taken his daughter to Iraq on "a family visit" in 2008 and had forced her into an arranged marriage with a man unknown to her. The father's explanation for the homicidal deed of which he stood accused was familiar: his daughter had dishonored his family by becoming "too Western," including working at a fast-food restaurant. At the time of writing, Faleh Almaleki was held in a jail in Phoenix, Arizona, on a suicide watch.
These incidents have been few but disturbing in America. The apparent invasion of Shariah law has been more pronounced in Europe. England has become the main field of confrontation over this issue. Differing polls and surveys have shown that up to 40 percent of British Muslims supposedly want the introduction of Shariah law in the country, while 41 percent opposed it and 19 percent were undecided. These figures, elicited by London's Sunday Telegraph in 2006, were not definitive. The potential opposition of 60 percent of British Muslims to introduction of Shariah was left unaddressed.
6/23/2010 4:00:00 AM