"You will teach them to your children and you will discuss them in your house and when you are out, when you lie down and when you get up." This part seems straightforward. But read it again, it's okay, we will wait . . .
Did you notice? Let's evaluate it together -- You must teach this to your children, okay fine, that is a parent's main job. Next, you discuss it in your house, okay, fine. Then when you are out, too . . . okay . . . And when you lie down? And when you get up? Now just wait a minute. If you are supposed to remember and talk about G-d's words and commandments when you are in your house and when you are not in your house . . .and when you are lying down and when you are standing up . . . I am not seeing too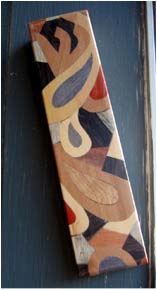 much of a loophole here. It seems to me that you are supposed to remember and honor and discuss this all the time.
"You will put them on the doorposts of your house and on your gates." This last part is straightforward as well. But how? Perhaps you remember the mezuzah. For our FOT (Friends of the Tribe), that is the little box on the doorframe of our homes . . . and not just on the main door! This section tells us to put them on every single door and gate in our homes (except the bathroom). One thing I love about Judaism is that there are so many memory touchstones within the faith. A mezuzah is one of them. Every time I leave a room and I kiss my hand and put it to the mezuzah, I connect to my Judaism, my people, my ancestors, and all those who went before me.

This whole portion is about connection. Connecting to the past through Moses and ensuring a connection to the future through our ritual. A connection to Hashem, to G-d, through our shared past and history, even thought it's not always an illustrious one. There have been foibles and mistakes but G-d wants us to learn from them, listen to G-d and our hearts, and move forward.
Parshat Ekev from
G-dcast.com
More Torah cartoons at www.g-dcast.com
7/28/2010 4:00:00 AM