By Star Foster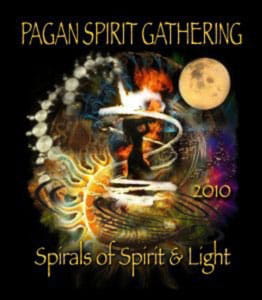 Pagan Spirit Gathering celebrated its 30th anniversary in 2010, and for the very first time a Pagan press organization was allowed to cover the festival. Pagan Newswire Collective in partnership with Proud Pagan Podcasters, The Wild Hunt, and Patheos.com interviewed participants, joined in the workshops and rituals, and enjoyed the amazing music.
Here's an index of links to coverage of PSG by PNC members, as well as links to articles/podcasts by other PSG 2010 participants. Please check back as we will be updating this index as new material is released!
Welcome Home! A "festal virgin" on Pagan Spirit Gathering 2010
Consensus Reality: Impressions from PSG
Professional Pagan Music: The Sound of PSG
Audio: Bella and SkyCat talk about beginning the Bast ritual, rites of passage, the year of the tornado and their memories of Pagan Spirit Gathering.
Audio: Ghetto Shaman Camp talk about tribes, rites of passage, funny memories and just what PSG means to them.<
Audio: Nora Cedarwind Young talks about women's rituals, being a death midwife and the atmosphere of acceptance at PSG.
Audio: Truly talks about Drama Llamas, pirates vs ninjas, his favorite memories of PSG and what makes this festival so unique.
Audio: COMMUNITY: Participants at Pagan Spirit Gathering 2010 share their thoughts on the community that is PSG.
Audio: STORIES REMIX: A short audio clip featuring some of the stories from Pagan Spirit Gathering.
The Wild Hunt features an interview with Selena Fox, and another with musicians David Doersch of Coyote Run and Arthur Hinds, solo artist and member of Emerald Rose.
A Darker Shade of Pagan features music from PSG artists and an interview with Damh the Bard.
T. Thorn Coyle on PSG and the importance of integration and continues her thoughts in Part 2.
Damh the Bard on the world-wide Pagan community and Pagan Spirit Gathering.
Kathy Nance writes about the prayers for the planet that took place at PSG in response to the oil spill in the Gulf of Mexico.
Snoozepossum on why PSG 2010 rocks!
7/20/2010 4:00:00 AM