By Kahlile Mehr
This is Part Two of the story of the Trial of the French Mission. Read Part One -- the first signs of apostasy -- here.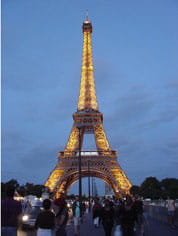 By the time the missionaries gathered in Paris to cross the channel for the dedication of the London Temple, many missionaries had an inkling that something was amiss in the French Mission. The atmosphere was tense and expectant. Missionaries learned that the companions Jarvis and Harper had jointly abandoned their missions and that Tucker had been removed from the mission presidency. In the absence of detail, many rumors -- some exaggerated and unfounded -- circulated through the groups of elders.
As for Tucker, Wakeham, and Silver, they found each other in the jostling milieu at the train station. Feeling a great sense of separation from the rest, they confided in each other their intent to leave their mission and were elated in their sense of unity.
On their way to the channel, Silver conversed with Wanda Scott, who had been a companion to Marilyn Lamborn in Marseille. Elder Silver and Sister Scott had shared scintillating but aberrant beliefs only shortly before, and she had been leaning toward the Tucker faction but had apparently been redirected in conversations with Apostle Brown. Once again Silver was dismayed at the widening gulf between himself and former friends and allies. Tucker's teachings had fomented a trial of testimony that needed to be resolved individually, missionary by missionary. Many who had espoused Tucker's doctrine privately would soon think twice when to do so openly would mean accounting to Church authorities. Assurance would turn to confusion, and they would question Tucker's teachings as they had previously questioned those of the Church.
Poor weather made the channel crossing rough and many missionaries ill. For Harvey it was a great adventure, especially since he was looking forward to the temple dedication and did not suffer from seasickness. He went about consoling the ill as best he could.
Upon their arrival in London Monday evening, several of those most suspected of being in collusion with Tucker were summoned to the British Mission Home from the hotel where the missionaries were quartered. These included elders Tucker, Wakeham, and Silver, and sisters Lamborn, Abbott, Wessel, and Fulk. In the case of sisters Wessel and Fulk, the suspicion of collusion was a long way off the mark. Marlene Wessel was the sister who as a new arrival had been instructed to emulate Elder Tucker. She was deeply involved in missionary work and had discounted Tucker's teachings as something beyond her ken. Eunice (Nancy) Fulk, ingenuous and unsophisticated, was also not the type to be interested in deep doctrinal questions. According to Silver, Fulk had known next to nothing of the whole question before London, although she had become a devotee of Tucker the person, accepting whatever he said unquestioningly. The interviews at the mission home lasted from 9:00 P.M. until 2:30 A.M.
Church authorities included: Jesse Curtis, Swiss-Austrian Mission president and friend of Silver's family; Howard W. Hunter, Pasadena Stake president and a former ecclesiastical leader of both Tucker and Wakeham; Clifton Kerr, British Mission president; and apostle Richard L. Evans. The main intent of the interviewers appears to have been to deal with the missionaries on a personal level. President Curtis tried to convince Silver of the disgrace his disaffection would bring to his family. Silver also recalls President Kerr speaking to him about the evils of polygamy and the ruin caused to families who still tried to live it. These arguments seemed irrelevant to Silver who, at that time, was more interested in discussing doctrinal issues and priesthood authority. None of the interviews appear to have accomplished their purpose.
Early the next morning, Tuesday, 9 September, all French missionaries were interviewed by General Authorities before leaving for the temple dedication services. A select group was called out first, being those most suspected of disharmony with the Church.
Harvey, to his surprise, was included in the first group of interviewees. A week earlier, while still in France, he had confessed to President Christensen that he did not honestly know that David O. McKay was a prophet of God. President Christensen did not know that Harvey's flawed testimony was in no way influenced by Tucker or his doctrines, and Harvey had no way of anticipating the reaction his confession would soon elicit. That Tuesday morning, he entered the interview room and was confronted by apostles Joseph Fielding Smith, Hugh B. Brown, and Henry D. Moyle. They came to the point quickly, Apostle Smith asking simply, "Do you know that David O. McKay is a prophet of God?" Harvey had grown up in the Church. He had accepted most of its teachings casually, with the exception of a strong testimony he had received concerning the Book of Mormon. So, he reflected to himself, could he honestly answer yes to the question posed? He felt a strong obligation to be honest and simplified a sudden surge of emotions, desires, and questions with the reply, "No sir, I'm sorry I don't." Apostle Smith was unaware of Harvey's special situation and, according to Harvey, exclaimed, "I can't believe it!" "Disgraceful!" "Shocking!" With that, Harvey was summarily dismissed pending a more complete interview after the temple dedication. Harvey exited, feeling a great sense of relief that the interview was over. He felt satisfied that he had been honest even if he had not said what he knew was expected of him as a missionary.
8/25/2010 4:00:00 AM