By Joseph Huff-Hannon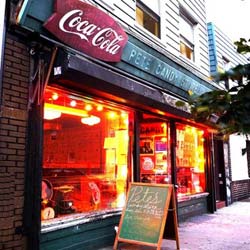 It's a lazy Sunday afternoon at Pete's Candy Store, a low-key watering hole on Lorimer Street in Williamsburg, the famously bohemian neighborhood popular with the young and the scruffy. A few men and women stand around the bar chatting and sipping on pints of beer next to a sign listing happy hour specials, while Dave Lagerman, a lanky young man with shaggy blond hair who lives on Long Island, sets up a row of chairs in a smaller, more intimate room in the back. A chalkboard easel outside the front door advertises the evening's offerings, including a popular open mike jam session kicking off at 5 p.m. An hour earlier, at 4 p.m.: "Revolution."
"I grew up Lutheran, but I get more feeling here," says Dave, nursing a two-dollar can of Pabst Blue Ribbon. Dave and the other odd twenty-five souls who have made their way here today on a winter New York afternoon, some sipping on cocktails, others fingering personal copies of the Bible, have gathered for what is a fairly typical ritual, albeit in a fairly atypical location. For one hour every Sunday, the backroom of Pete's Candy Store -- a space with the feel of a boxcar dressed up as a cabaret, where red lights dot the ceiling, and the stage is done up in red carpet and lined with red wallpaper -- is converted to a chapel for the weekly meeting of a nondenominational charismatic Christian church called Revolution.
At a few minutes to four, a man makes his way to the front of the room wearing black boots, a green biker's satchel, a cap, and a web of ink up and down his arms. He has a small piercing in his lower lip and a big Toys "R" Us bag in his hands. After a final announcement is made inviting everybody at the bar to enter the "sanctuary," the tattooed gentleman announces a holiday toy drive for kids with HIV and encourages people to dig deep into their pockets. In a mellow Southern accent he shares a memory from his own childhood, when a friend at school brought him a football one day out of the blue, and how happy that made him feel. "And believe me, when I was a kid I had everything. I was a spoiled brat."
By most any standard, at least until the bottom fell out when he was a teenager, he was. This is Jay Bakker, the only son of Jimmy and Tammy Faye Bakker, founders of the Praise the Lord Club -- or PTL -- at one time the largest Christian satellite broadcast network in the world. They are the same Bakkers who found themselves at the tabloid epicenter of overlapping fraud and sex scandals in the 1980s that ultimately led to their ouster from the church they founded and to Jim Bakker's imprisonment on embezzlement charges. It was one of the most storied chapters in the annals of American scandal, and now the Bakkers' son preaches to a tiny congregation whose members sip draft beer and thumb through their iPhones while contemplating the gospel.
"I like to figure things out, and I like to question things; that's why I enjoy theology," Bakker tells his audience during a sermon in which references to Bob Dylan, personal anecdotes, and New Testament passages are seamlessly interwoven. When he's in the front of the room, Bakker has great presence. He uses props and self-deprecating jokes, and has a knack for impersonation -- a recent Sammy Davis, Jr. impression was spot on. Often, after reading a passage from scripture that he finds especially resonant, Bakker will say, to nobody in particular: "Doesn't that blow your mind?"
"For me, the more I seek, the more I'm lost. That's why I look at theology and philosophy together," he says towards the end of his sermon, before bowing his head and leading everyone in prayer. "I think we need to hold our theology with kind of open eyes. When we limit God, often we do it with the Bible."
The predictable way to understand this story would be as an ironic parable, and outward appearances certainly lend themselves to that. Rebel child versus establishmentarian father, hipster son versus square mother, radical new preacher of a gospel of acceptance versus right-wing old ideologues of a gospel of exclusion. None of the hackneyed tropes fits perfectly though, nor do the facts bear them out.
Jay Bakker is also a dutiful son who has taken and adapted some of the lesser-known and under-publicized tenets of his parents' massive broadcast platform --preaching the love of Christ rather than the fear of a vengeful God, on a striving for grace, and a call for acceptance and love of outcasts and "the least among us." While the elder Bakkers were at one time the biggest symbols of the unseemly televised marriage of commerce and faith that exploded in the '80s, they were also the first Christian evangelists to invite gay people, and those with HIV/AIDS, to tell their stories on air -- this at a time when many religious establishments, especially evangelical churches, were offering only fire and brimstone. The Bakkers were also the first evangelists to host homeless people and those struggling with substance abuse on their many live programs, engaging with "social outcasts" within a framework of Christian love and radical acceptance -- on national television. One of the more iconic elements of the show was how Jim Bakker often ended the program: by looking in to the camera and earnestly telling his audience, "God loves you. He really does."
8/12/2010 4:00:00 AM