By Sarah Glazer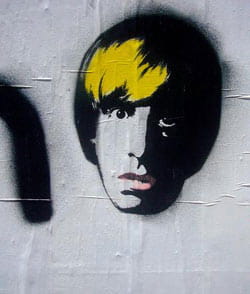 Erran Baron Cohen is drinking coffee at a café in Temple Fortune, an enclave of synagogues and kosher shops in north London. With a mop of dark curls, Erran looks slightly rumpled and harried, a man on deadline. The musician is just finishing composing the score for The Infidel, a comedy film about Mahmud Nasir, a British Muslim who discovers he was born Solly Shimshillewitz and adopted. As Nasir walks in a daze through a market in the majority Bangladeshi London neighborhood of Whitechapel, manic Klezmer-style brassy music, inflected with Pakistani rhythms, pursues him. The music, says Erran, is meant to show the "conflict between Mahmud's identities."
Erran, 42, is a creature of modern London, a city of diverse immigrant communities, distinct ethnic neighborhoods, and a wild mixing of cultures, where tolerance predominates but prejudice lurks not far away. His band, Zohar, named after the central text of the kabbalah, blends music of the Middle East with Jewish themes and a modern beat. Musically, as well as culturally, Erran believes, Jews and Arabs are cousins. "The way the hazan often improvises around the melody in a very Semitic way is similar to what an Arab muezzin [who leads the call to prayer] would do. I think there's amazing similarity between our cultures," says Erran, who attributes his interest in music to listening to his cantor's moving singing in synagogue as a child.
Americans may not be familiar with Erran's name but they know his work. He composed the music for Borat (2006) and Bruno (2009), written by and starring his brother Sacha Baron Cohen, the comedic actor three and a half years his junior. The score for Borat won Erran an American Society of Composers, Authors and Publishers award. He snagged the commission to write the score by composing a fictional Kazakhstani national anthem in one night, recording his own voice and multiplying it about forty times to create the effect of a resounding chorus of male voices. Although Erran often draws on world music, in this case, he says, "that was not Kazakhstani at all, but the idea was militaristic: the Russian Red Army singing, quite Soviet there." Some of the anthem's lyrics, which Erran did not write, go: "Kazakhstan, Kazakhstan, you very nice place/From plains of Tarashek to northern fence of Jewtown." The movie was a smash hit and lauded by critics, earning Sacha a Golden Globe award for best actor and an Oscar nomination for best screenplay.
Borat follows the adventures of a bumbling faux-Kazakhstani journalist who effortlessly elicits expressions of anti-Semitism and racism from the ordinary Americans he interviews. Even before the film, Sacha's Borat persona was exposing prejudice. His most infamous anti-Semitic outburst was broadcast on HBO in 2004, when he led patrons in a Tucson, Arizona bar in a rousing rendition of a song composed by Sacha titled "In My Country There Is a Problem (Throw the Jew Down the Well)." Sacha's Bruno, a gay Austrian fashion reporter, has no trouble getting fashionistas to repeat his thumbs-down trope of "Train to Auschwitz" to condemn designs that don't meet their approval.
In a rare interview as himself (and not one of his characters) Sacha told NPR's Terry Gross that he didn't believe that the people Borat encountered agreed with his racist statements just to be polite, and even if that was their motivation, he was concerned. "'The path to Auschwitz was paved with indifference,'" Sacha, a Cambridge University history graduate said, quoting British historian Ian Kershaw. "It's that indifference that's quite dangerous."
Sacha, through his satirical characters, and Erran, through his musical fusion, are pushing back against prejudice, which has played a powerful role shaping Baron Cohen family history. The two brothers are members of the fourth generation of Baron Cohens, which also includes their first cousins Ash, a Hollywood director of small-budget independent films such as Bang and This Girl's Life, and Simon, a prominent Cambridge psychologist promulgating controversial theories about sex differences and the brain.
On the one hand, the story of the Baron Cohen clan chronicles the success and assimilation of Britain's Jews. From impoverished Eastern European great-grandparents, its members have risen in three generations to make distinguished careers in academia and Hollywood. At the same time, the Baron Cohens stand out among British Jews, who are generally far less vocal than their American brethren. They are willing to draw directly on their Jewishness to shock and provoke.
9/30/2010 4:00:00 AM