By Talia Davis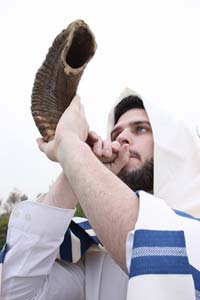 This week, the week of Rosh Hashanah, we are breaking with tradition. There isn't an assigned portion (in the cycle) this week, but rather specific Rosh Hashanah Torah readings. On the first day of Rosh Hashanah we read Genesis 21:1-34 and on the second day we read Genesis 22:1-24.
The Torah and Haftorah portions for this holiday are very female oriented. They deal with mothers and their sons, life and death. In the first parsha, we read about Abraham and Sarah. Abe and Sarah wanted so much to have child. They prayed for a child for so long and finally, the Torah says, "G-d remembered Sarah." This doesn't mean that G-d literally forgot about her, but simply that it was her time. Odd timing though . . . Sarah was 90 years old and Abraham 100. Regardless, Isaac was born and was circumcised at eight days old. Why is this fact important? Well, Abraham was not born Jewish. He got involved with G-d starting at the age of three. He was our first Jew. He was circumcised when he was much older. So here we have the first example of a Jewish child and this section let's us know what we are to do for our own sons.
There is more to this section, however. Also, here, we talk about Hagar and Ishmael's banishment. Who is Hagar? She was Sarah's maid. In those days, it was common to share your maids with your husband, if you so chose. When Sarah couldn't have a child, she gave Hagar to her husband and hoped they would conceive, assuring that, in this way at least, Abraham's line would continue. The child of this marriage was Ishmael. However, Ishmael was not the model son. In Genesis 16:12, it recounts that he was a wild man who was violent with the others in their group. So Sarah has had enough and demands that Abraham banish Hagar and Ishmael. But G-d reminds Abraham to listen to his wife and so they are banished. In this parsha, we pick up when they are leaving.
Hagar and Ishmael set off heading roughly in the direction of Egypt, but they don't have much food or water or money and soon they are in a bad spot. They are hungry and thirsty and Ishmael thinks he is going to die. Rather than comfort him, his mother, Hagar, pushes him under a bush because she can't be around her son when he is in pain. The dying man calls out to G-d and G-d saves his life. G-d even saves the life of his mother who couldn't be bothered.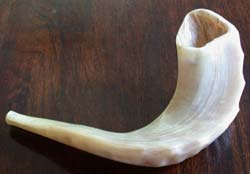 On the second day of Rosh Hashanah, we come to another important child/parent moment. G-d tells Abraham that he must go up to Mt. Moriah in Jerusalem and sacrifice his son Isaac. This child that he prayed for is now being requested by G-d. The two of them hike to the top, wherein Isaac gets a big surprise. His dad starts tying him up and sharpening his knife! Just as Abraham is raising his knife to kill Isaac, G-d calls out to him, "Abraham, Abraham . . ." G-d says his name twice. G-d informs Abraham that there is a lovely ram caught over on the side and while G-d appreciates his show of faith, G-d would appreciate it more if he would go over and use the ram instead of his son as the sacrifice. This is one of the reasons why we use a ram's horn as our shofar on Rosh Hashanah.
Enjoy this really great video from our partners at G-dCast.com about the Rosh Hashanah parshot.
Shofar Callin' from
G-dcast.com
More Torah cartoons at www.g-dcast.com
9/7/2010 4:00:00 AM