By Sr. Lisa M. Doty, FdCC
Patheos' "The Habit of Witness" series features essays written by consecrated Catholic women and men sharing their encounters and experiences while dressed in the habit. In this third installment, a Canossian sister shares how a chance encounter with one woman introduced a moment of grace to a city bus on a normal daily run.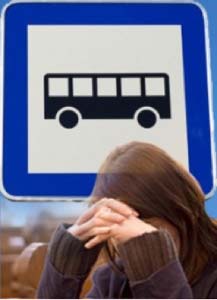 During Easter vacation, the Canossian International Missionary Volunteers (VOICA) holds a time of reflection and prayer at the formation center in Rome. The days are mixed with play and team building, spiritual talks and formation, and times for sharing experiences of mission. During these gatherings, I have had the opportunity to share my vocation story with our various volunteer missionaries. One time, I remember being asked, "Sr. Lisa, when do you feel most Sisterly?"
I find that in my twelve years of professed religious life, there are many facets of my consecration that I love, and these confirm my vocation on a daily basis. But there is something special that happens when the Lord allows my life to intersect for a brief moment in time with another human being.
One day I was visiting Our Lady of Perpetual Help parish in the town where I grew up. I wanted to touch base and leave some materials about my religious institute with the pastor. After taking some time to pray in the Church, I headed down the road to the bus stop for my return home. Waiting for the bus, I just pulled out my prayer book to pray, when a young woman came up and sat down at the other end of the bench. She seemed to be sizing me up, glancing over now and then, letting her gaze shift back and forth from me to the hands in her lap. She seemed nervous about something and just as I was getting ready to ask her if everything was okay, she suddenly got up from her spot and approached me.
"Ma'am," she started out saying, "are you a nun?" I looked up at her and said, "Yes, I am." She sat down next to me and began to tell me her story.
She was a young woman who married just over a year before, and she had baby girl at home. She admitted to me her husband was a former drug dealer trying to get out of the business, and was having a difficult time finding work. She herself was on her way that morning for a job interview at an upscale furniture store. She was wearing, I'm sure, her best clothes, and in my heart I feared for her chances.
"I really need this job," she told me, her voice betraying her own fear inside. "Would . . . would you mind praying for me?"
I asked her if she belonged to any particular church, and she confided she was raised Christian, but didn't belong to any church. She and her husband had recently moved to get away from his former drug connections.
As the bus approached, I told her that I was going in her direction and could accompany her part way. We found seats near the front, and for the fifteen-minute ride, I prayed with her. We prayed for her family, affirming that God was aware of her needs, and would always provide.
"Can you believe -- even if you don't get this job -- that God loves you and will provide for you?" I asked, holding her hand. She said she could, and professed her own belief in God's providence; together, we prayed for the day's provision for her and her family, in the words Jesus had taught us:
Our Father, who art in heaven, hallowed be thy name. Thy kingdom come, thy will be done, on earth as it is in heaven. Give us this day our daily bread and forgive us our trespasses, as we forgive those who trespass against us. And lead us not into temptation but deliver us from evil. For thine is the kingdom, the power and the glory, forever and ever. Amen.
Halfway through the prayer, I noticed something surprising, although it should not have been: behind us and from across the aisle of the bus, others had begun to pray with us. The young woman noticed it too, and she was deeply touched by the power of the prayer, so enlarged through the voices of an unknown, anonymous, and instantly-formed community.
There, on a bus, perfect strangers united in prayer for the intentions of another stranger, and in doing so, they provided her with consolation and a renewal of hope. The countenance I had encountered at the bus stop, burdened and filled with dread, had become transformed and the young woman now before me looked confident in God's love, which had been demonstrated to her -- profoundly -- in the willingness of others to help her through her worry.
10/29/2010 4:00:00 AM