By Cara Shulz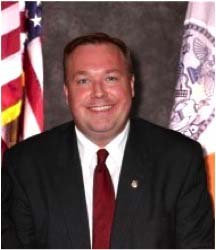 Paganism is starting to gain acceptance in mainstream society. As a measure of acceptance, we are seeing milestones such as Patrick McCollum speaking at the World Forum of Spiritual Culture in Astana, Kazakhstan last week. Another such milestone is the election of openly Pagan candidates to political office. In the past few years the Pagan community has seen the election of two openly Pagan candidates. One of them is Dan Halloran.
One year ago, Halloran, running as an Independent Republican with Tea Party backing, was in a bare knuckle fight for a seat on the New York City Council against Democrat Kevin Kim. The race turned even uglier when Kim's spokesman sent a press release to journalists all across the city in an attempt to use Halloran's faith against him. The Queen's Tribune, heavily linked to the Democratic candidate, was particularly sensationalist in their approach. Despite raising less money and devoting critical time to address this attack on his religion, Halloran won the election. In part two of our series, Pagans in Politics, Halloran agreed to talk with Pagan+politics about his freshman year in office.
It's almost one year ago that you were elected into office. Has it been what you expected?

Yes and No. Of course, there is always going to be certain level of expectation that once in office you will be able to immediately set about fixing things. The reality is that the system is slow to respond, difficult to master, and oftentimes set up to discourage change.
On the flip side of the coin, there have been tremendous things that have opened up doors and opportunities that I had hoped would materialize once I entered office, and I have been able to use the power of my office to make a real difference in a lot of ways.
So on the whole, it is what I expected but I am actively at work changing things.
I understand most days are not typical, but could you give us an example of what you do during the day?

7 a.m., up, walk dogs, shower, dress.
8 a.m., start at District office in Queens, get itinerary for meeting and hearings, review mail, sign constituent service letters, review notes, call logs, and office budget items.
9 a.m., meet with Chief of Staff and Deputy Chief to set up instructions for staff for day and long-term policy and legislative work.
9:45 a.m., leave district office to drive into Manhattan.
10 a.m., begin committee hearings at City Hall. I serve on the most committees of any freshman councilman, and second in the entire council: 1) Public Safety, 2) Fire & Criminal Justice, 3) Land Use, Public Siting, 4) Landmarks, and Maritime Uses, 5) Mental Health and Retardation Drug & Alcohol Abuse and Disability Services, and 6) Public Housing.
1 p.m., lunch and noontime appointments with City Agencies, Lobbyists, and Constituents in City Hall offices, review legislative issues and City Council Agendas.
3 p.m., head back to district office.
3:30 p.m., afternoon appointments with Constituents, local other elected officials -- assembly (my district spans four assembly districts), state senate (two senate districts), congressmen (two congressional districts) and police and community boards (two Community Boards and three police precincts).
5 p.m., review calendar for next day and appointments with scheduler.
6 p.m., attend local civic and community events (my council district is composed of seven towns, over 161,000 constituents, twenty-four square miles of land, and four marinas and fourteen miles of coastline).
10 p.m., home, walk and feed the hounds, eat, start emails, review committee notes and research for next day's appointments and hearings.
11 p.m., evening bedes at my home Stalli, followed by watching news and sleep.
The Committees meet between two and three times a month each; the Council has stated meetings twice a month.
10/29/2010 4:00:00 AM