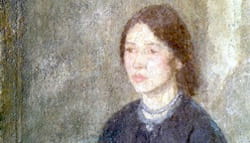 On September 18, 1939, the public hospital in the port city of Dieppe, France recorded the death of a 63-year-old woman, a Catholic painter of some reputation. Gwen John had traveled to this city from Paris only days before, carrying nothing except a notarized copy of her will and burial instructions.
Augustus John, her extroverted younger brother, a prodigious talent in the world of painting and portraiture, remarked that his sister brought nothing for herself and yet had managed to see to it that her cats would be fed and cared for while she was away. This quality of self-forgetfulness, which crossed the barrier into self-destructiveness, brought an end to the career of one of the few notable Catholic painters of the post-Impressionist period.
The isolated and forlorn condition of Gwen John's passing only served to fuel what Cecily Langdale has called "the Gwen John legend." Sister of one flamboyant genius and lover of another, Gwen John was herself a recluse who painted in artistic isolation. Her achievement was essentially unknown during her own lifetime, generally unappreciated thereafter, and is only now coming to be recognized as greater than that of her celebrated brother Augustus, to whom she is invariably compared.
Yet, like all legends, this one contains portions of both truth and falsehood. While she lived a deliberately eremitic life, often exhibiting a dread of strangers, especially in her last ten years, she also developed friendships with such artists as the poet Rainer Maria Rilke, Arthur Symons, the British exponent of Symbolism, and John Quinn, a New York connoisseur of the avant garde who served as her exclusive agent. Although not primarily interested in theories of aesthetics or even art criticism, she met leading artists of the day, including Picasso, Braque, and Matisse. While Gwen John found Matisse to be a snob, she thought Rouault "the greatest painter of our day."
Indeed two of her relationships, a love affair with Auguste Rodin and a friendship with Vera Oumançoff, sister-in-law of Jacques Maritain, could be described as obsessional attachments. Gwen John's reputation has been refracted through these two relationships, provoking a biography in 1983 by Susan Chitty and a 1984 BBC documentary, A Very Private View. Additionally, Cecily Langdale, an art dealer in New York, and David Fraser Jenkins sought to move the discussion away from the artist's passionate and often tortured personal affections, to a consideration of her artwork itself and her position within modern art and painting. This approach, though frankly secular, has the advantage of making the appropriate discrimination between an artist's work and her amorous life or psychic underside.
Nevertheless, in this effort to distinguish the life of Gwen John from her work there may be a danger in disassociating her, too abruptly, from heteronomous influences that affected her work, in particular her conversion to Roman Catholicism in 1913. There was a particular Catholic side to Gwen John, although the faith took hold in a personality of marked quirkiness.
Gwen John was born in Wales in 1876, the second oldest in a family of four children. Her younger brother Augustus excelled in drawing and was sent to the Slade School in 1894. Not to be held back, Gwen joined him one year later in 1895. The Slade was at that time in its halcyon period led by Frederick Brown and his assistant, Henry Tonks. Drawing instruction was a hallmark of the school (Chesterton studied there from 1894-95) and students were encouraged to make copies after the old masters. Augustus won the competition in 1897 with a copy after the manner of Watteau. He was by all accounts "the first draughtsman in England," with a personal flair that made him the envy of his fellow students.

Gwen was also deft in drawing but she skirted the shadow of her younger brother, giving an early indication of her intention to develop a style uniquely her own. Their relationship was non-competitive and highly affectionate. Although critical of Gwen's evident unconcern about her health, Augustus was foremost in appreciating her art. What his own work owed in technical mastery, he felt that Gwen's pictures more than compensated in interior feeling and expressiveness.
After the Slade came a six-month stay at James McNeill Whistler's newly established, Académie Carmen in Paris. Whistler was the rage at the Slade School and Gwen John, upon arrival, was already painting in low tones with the intimate subject matter of which he approved. Augustus inquired of the celebrated man what he thought of Gwen's "feeling for character." "Character?" returned Whistler, "what's that? It's tone that matters. Your sister has a fine sense of tone." These low tones give to her paintings and gouaches a muted quality that suggests inwardness. For this reason, some have found her art disconcerting or difficult to view, yet she was oblivious to such comments. "As to whether I have anything worth expressing," she wrote to Ursula Trywhitt, "that is apart from the question. I may never have anything to express, except this desire for a more interior life."
11/23/2010 5:00:00 AM