Editor's Note: This article introduces Mark D. Roberts' new column at Patheos' Preachers Portal. The column will be featured on Wednesdays at the Preachers Portal and the Evangelical Portal.
Poppy's workshop was a magical place. If I close my eyes, I can still smell its aroma, a unique combination of pungent sawdust and the remnant of varnish expertly sprayed on fine furniture.
Poppy, my maternal grandfather, had built a modest room in the back of his garage that served as his workshop for fifty years. His "shop," as we called it for short, was jammed with tools of all sorts, including power saws, a drill press, a jointer, a lathe, photographic equipment, a paint sprayer, and hundreds of hand tools.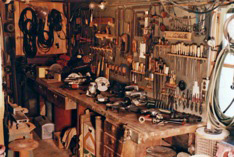 From my earliest days, I would sit on my special stool and watch Poppy build or fix or invent. By profession, he was a civil engineer who oversaw the construction of skyscrapers. But Poppy was also a talented craftsman who made a wide variety of treasures, from a spacious playhouse for my sisters to elegant furniture for his home. As I perched attentively on my stool, Poppy would explain what he was making, how tools worked, where he got them, and how to take care of them. (Many of the tools came from his father's ranch and live today in my own workshop.) When I was quite young, Poppy would give me some hand tools and small pieces of wood so I could fashion my own masterpieces. As I grew older, he introduced me to the power tools. The day he turned me loose with the table saw was one of the proudest of my life.
For me, the workshop is a place of discovery and exploration. It's a haven for learning and investigation. The workshop is filled with tools to help us make progress on the projects of our dreams. In the workshop, we don't have to get it right all the time. There is ample room for mistakes and retries. In the workshop, we don't have to have all the answers. Rather, we can experiment and take risks without fear that our failures will never be forgiven.
Above all, for me, the workshop is a safe place for genuine relationship. I don't know if I've ever felt freer to be myself than when I was sitting on my stool in Poppy's workshop. Besides talking about tools and projects, he and I discussed just about everything there: school and work, science and faith, family and friends, politics and economics, fears and dreams. The sense of community I felt with Poppy was a treasure I still prize.
I have named this column "The Pastor's Workshop" because I would like it to be like Poppy's shop for people who serve in church ministry. I envision The Pastor's Workshop as a safe haven for preachers and pastors, for ministers and priests, for church professionals as well as for lay people who serve Christ as servant leaders in his church.
In this workshop, I hope to provide some tools for ministry along with pointers on how to use them. These tools might be helpful books, biblical insights, fruitful programs, spiritual disciplines, or cultural commentaries. I expect that my readers will offer their own suggestions through their comments. Pastors today have no shortage of possible tools. Yet we need to know which of these are truly useful and deserving of our time and attention.
I plan on sharing from my pastoral experience as I write this column. During most of the last twenty-five years, I worked in two different churches. Now, though I am still an ordained Presbyterian minister, I serve with Laity Lodge, a retreat and renewal ministry in the Hill Country of Texas. So, though I'm not in the trenches of parish ministry these days, I do spend a fair amount of time interacting with pastors in a wide variety of churches and denominations. Plus, I now find myself on the other side of pastoral ministry as an active participant in a local church. This experience has enriched my perspective on what pastoring is all about.
Even as Poppy's shop was a place for exploration and experimentation, so will be The Pastor's Workshop. I hope my readers and I can get beyond the need to be right all the time as we seek to learn and grow together. I reserve the right to be wrong, to change my mind, and to learn from you. I hope you'll visit this workshop with a similar attitude. I believe that if we can get beyond our fragile egos, we can learn from each other even as we build each other up in Christ.
I also hope The Pastor's Workshop will be a context for genuine community. Of course, there are limits to what we can experience online. But, through comments (or more private emails), perhaps we can share our ideas and our hearts openly. Those of us who work in churches desperately need safe places where we can be ourselves, where we can admit our questions and doubts, where we can share our frustrations and failures, and where we can encourage and instruct each other in the Lord.
11/10/2010 5:00:00 AM