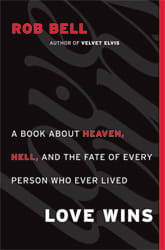 This month in the Patheos Book Club, we're discussing Rob Bell's new book Love Wins: A Book About Heaven, Hell, and the Fate of Every Person That Ever Lived. Read an Excerpt of Chapter One, below, and then join the conversation.
LOVE WINS: Chapter One
What About the Flat Tire?
Several years ago we had an art show at our church. I
had been giving a series of teachings on peacemaking,
and we invited artists to display their paintings, poems,
and sculptures that reflected their understanding of what
it means to be a peacemaker. One woman included in her
work a quote from Mahatma Gandhi, which a number of
people found quite compelling.
But not everyone.
Someone attached a piece of paper to it.
On the piece of paper was written: "Reality check: He's in
hell."
Really?
Gandhi's in hell?
He is?
We have confirmation of this?
Somebody knows this?
Without a doubt?
And that somebody decided to take on the responsibility
of letting the rest of us know?
Of all the billions of people
who have ever lived, will only
a select number "make it to a better place" and every
single other person suffer in torment and punishment
forever? Is this acceptable to God? Has God created
millions of people over tens of thousands of years who
are going to spend eternity in anguish? Can God do this,
or even allow this, and still claim to be a loving God?
Does God punish people for thousands of years with
infinite, eternal torment for things they did in their few
finite years of life?
This doesn't just raise disturbing questions about God; it
raises questions about the beliefs themselves.
Why them?
Why you?
Why me?
Why not him or her or them?
If there are only a select few who go to heaven, which is
more terrifying to fathom: the billions who burn forever
or the few who escape this fate? How does a person end
up being one of the few?
Chance?
Luck?
Random selection?
Being born in the right place, family, or country?
Having a youth pastor who "relates better to the kids"?
God choosing you instead of others?
What kind of faith is that?
Or, more important:
What kind of God is that?
And whenever people claim that one group is in, saved,
accepted by God, forgiven, enlightened, redeemed-and
everybody else isn't-why is it that those who make this
claim are almost always part of the group that's "in"?
Have you ever heard people make claims about a select
few being the chosen and then claim that they're not part
of that group?
Several years ago I heard a woman tell about the funeral
of her daughter's friend, a high-school student who was
killed in a car accident. Her daughter was asked by a
Christian if the young man who had died was a Chris-
tian. She said that he told people he was an atheist. This
person then said to her, "So there's no hope then."
No hope?
Is that the Christian
message?
"No hope"?
Is that what Jesus offers the world?
Is this the sacred calling of Christians-to announce that
there's no hope?
The death of this high-school student raises questions
about what's called the "age of accountability." Some
Christians believe that up to a certain age children aren't
held accountable for what they believe or who they
believe in, so if they die during those years, they go to be
with God. But then when they reach a certain age, they
become accountable for their beliefs, and if they die,
they go to be with God only if they have said or done or
believed the "right" things. Among those who believe
this, this age of accountability is generally considered to
be sometime around age twelve.
This belief raises a number of issues, one of them being
the risk each new life faces. If every new baby being born
could grow up to not believe the right things and go to
hell forever, then prematurely terminating a child's life
anytime from conception to twelve years of age would
actually be the loving thing to do, guaranteeing that the
child ends up in heaven, and not hell, forever. Why run
the risk?
And that risk raises another question about this high-
School student's death. What happens when a fifteen-
year-old atheist dies? Was there a three-year window
when he could have made a decision to change his
eternal destiny? Did he miss his chance? What if he had
lived to sixteen, and it was in that sixteenth year that
he came to believe what he was supposed to believe?
Was God limited to that three-year window, and if the
message didn't get to the young man in that time, well,
that's just unfortunate?
3/16/2011 4:00:00 AM