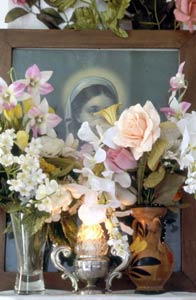 Anyone who has ever been in my home can easily attest to the love I have for painting and photography. I don't do either, certainly not with any facility, but I have a deep love for art: photography, painting, sculpture: these crafts (and others like them) are such powerful conduits for spiritual expression. More than once I've marveled at how fully and deeply photographers pray with their cameras, or how artists experience the Gods through the medium of canvas and paint. I worked in the performing arts for years and I've seen musicians and dancers come as close to touching the divine during the execution of their craft as one might ever hope to get. In many ways, my own now-defunct career as a ballet dancer paved the way for the priest and shaman that I later became. These things are sacred in a way I don't think we quite understand. Sometimes various arts speak to people and open them up spiritually, help them connect to the Gods when everything else has failed. They are pathways to that which is holy.
I also very much associate creative expression with springtime, Ostara, the beauty of the land as it bursts slowly but inexorably into a soft tapestry of green. For me, it's a time when I start feeling motivated again to put my ideas for various projects into action. It's a time of preparation for manifestation. I began my own studies in glassblowing right at the start of spring last year and, as I've already talked about in my Charming of the Plough/Imbolc article, I strongly associate early spring with Gods and Goddesses of craft and art and the beauty that comes from carefully cultivated skill. Deities like Weyland the Smith, Brigid, Andvari, Hephaistos seem to be particularly accessible this time of year and ever ready to bestow Their inspiration on the ready heart and mind.
Moreover, I think it's really important, maybe even essential, to feed our eyes and ears with beauty. I can't help but wonder if by doing so maybe, just maybe we feed our hearts and spirits as well. For that reason and many more it gives me great pleasure to share with you this interview with Mary Ann Glass. While I've interviewed many writers in this column, I don't believe I've ever had the pleasure of interviewing a professional photographer. While I'll allow Mary Ann's work and words to speak for themselves, suffice it to say she is a well-known photographer in the Hudson Valley (NY) area. I was fortunate enough to capture a bit of her time on March 6, 2011.
Mary Ann, thank you so much for taking the time to sit down with me. As soon as I saw your recent portfolio of sacred images, I just knew I wanted to interview you for "Highway to Hel"! Can you tell me and my readers a little bit about your work?
My work has been described simultaneously as spiritual and sensual, serious and elegant. I'm not a typical landscape photographer, although my inspiration often comes from the landscape and the manmade objects that are in it. Basically, I photograph that which interests me! I may ignore the rainbow over the valley to concentrate on a particularly interesting garden hose.
I have to say, that's precisely what fascinates me about your work: it's never the expected angle. You play with space and light and balance in a way that really draws the eye. Now, given that this is a Pagan and Heathen column, I should probably ask—as I do nearly all of my contributors --what has your experience been with Paganism?
I have to admit that I avoid personal labels, including that of "Pagan," but Paganism certainly fills my life in interesting and unexpected ways. I live with it every day. For instance, my house was built in the 1890's by a local bleachery as housing for its executives. For some unknown reason, I have a niche in the wall right past the entranceway. I'm not entirely sure if the builders assumed the inhabitants would be Catholic, but I've put it to a somewhat different use: it now houses a statue of the Goddess Fortuna. My housemate and I honor Her fairly regularly. We like to honor Her with food, wine, any change that falls out of our pockets, fortune cookies and my housemate also likes to give Her $2 bills that he collects especially for Her. (All the money is then used to buy Her more offerings). It's an ongoing part of maintaining our household.

Given that Fortuna was a particularly beloved Roman Goddess, perhaps it's also a nice bit of synchronicity that your next project is going to take you into the heart of Italy—you're currently planning an upcoming program in Italy and in the Basque country. Those regions were once home to rich Pagan cultures and many elements of that aesthetic survive in the artwork, landscape, and customs. What could a trip like this offer to Pagans? Why might it be of interest to my readers?
3/31/2011 4:00:00 AM