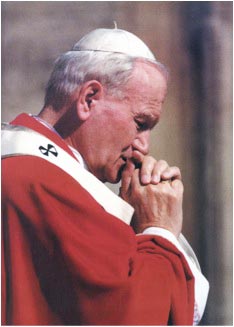 (RNS) A small quantity of blood from the late Pope John Paul II will be exposed as a holy relic during his beatification on Sunday (May 1), the Vatican has announced.
The blood was taken during a medical test shortly before John Paul's death in April 2005, and later divided into four containers, according to a Vatican statement released on Tuesday (April 26).
Two of the containers were kept by then-Archbishop Stanislaw Dziwisz, John Paul's private secretary, who is now a cardinal in John Paul's native Krakow, Poland. The other two containers were kept by Catholic nuns at Rome's Bambino Gesu Hospital.
The Rome containers have been placed in reliquaries, one of which will be "presented for the veneration of the faithful" during Sunday's ceremony in St. Peter's Square when John Paul is elevated to the step below sainthood.
The other reliquary will be returned to the custody of the hospital's nuns.
As reported earlier, some of same blood will be permanently displayed at the Shrine of Divine Mercy in Lagiewniki, outside Krakow. The display will begin on May 8, the feast of Poland's Patron St. Stanislaw.
The Vatican's statement, presumably hoping to dispel any thoughts of supernatural explanation, noted that the blood remains in a liquid state, due to the presence of an "anticoagulant" at the time of collection.
Residents of Naples, Italy, traditionally believe that the dried blood of their patron saint, Januarius, regularly liquefies as a favorable omen for the city.
4/28/2011 4:00:00 AM