Patheos' "The Habit of Witness" series features essays written by consecrated Catholic women and men sharing their experiences while dressed in the habit. In this eighth installment, a Carmelite sister shares encounter with children who instinctively seemed to connect the habit with God.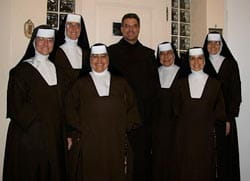 An interesting thing happened on a recent trip to Tennessee. My sister and I had planned to visit the Great Smokey Mountains. We decided to go to Cades Cove, an eleven-mile loop road for viewing well-groomed valleys, mountain vistas, wildlife, floral, and historic structures. Cades Cove is one of the earliest settlements, dating back to the 1850s. It evokes memories of the famed movie, Christy, the story of the one-room schoolhouse teacher in the Appalachian Mountains. We visited log cabins with authentic cookware still on the tables; blacksmiths' shops with harnesses hanging, and several rustic churches. The depth of the people's faith was actually visible in the hundreds of handprints left behind in the thatched ceiling of the church.
We were about to finish up the tour by visiting the first church built on this early settlement when suddenly something flashed past us, stopped, and whirled around. It was a small girl about 8 years old, with golden pigtails still swaying. She stood looking at me with her mouth wide-open and her eyes as large as saucers. "God!" she cried. "It's God!" She twirled around quickly, ran up the steps of the church, and disappeared. My sister and I just looked at each other and chuckled that my brown Carmelite habit could create such an impression.
When we approached the steps to the church, the little girl appeared once again at the doorway. With each step I ascended I heard her say urgently, "God is coming! God is coming!"
Now, it is difficult to describe the overpowering feeling one has at this type of acclamation. I do not think I have ascended stairs with such grace in all my life! Once inside the church I passed the little girl's father who bent over and whispered, "Bet you never expected that." My sister and I finished our tour and returned to our car, all the while wondering at the catechesis the little girl's parents might provide once they were safely home.
Later in that same day, my sister and I decided to stop at a small country store to pick up some groceries. We had traveled down several aisles when suddenly a small boy appeared with his mother following behind with her cart. The little boy took a good long look at me and once he had passed he said to his mother, "What's that?"
"She works for God," the mother answered.
When we were safely out of hearing range, my sister looked at me and said, "Well, that's just the way life is, isn't it? One minute you are God, and the next minute you just work for Him."
Some may question whether a religious habit is relevant in today's world. The habit does not make the monk, the saying goes. This incident, however, certainly proved to me that it is a true witness. If a small girl and boy from the Bible Belt, who, I would venture, had never seen a religious Sister, was able to equate "her" with "Him," then witness she is.
Every morning, now, when I am privileged to don the habit and pray, "Clothe me, O my God, with the holy habit in order that I may appear before you in such manner as my holy habit requires," I say a little prayer of gratitude for a small girl in Tennessee.
6/17/2011 4:00:00 AM