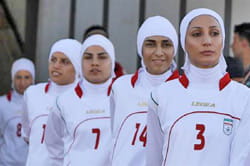 The Iranian women's soccer team is not going to the 2012 Olympics in London this summer. It's not that they didn't qualify because they weren't good enough. They were banned from playing before a crucial Olympic qualifying match in Amman, Jordan on Friday by officials of FIFA, the international football association, for wearing tight headscarves.
FIFA announced Monday that the headscarves broke the association's dress code, a decision made by officials just prior to game's start, according to The Washington Post. One FIFA official, who was not identified in the article, said the headscarves were banned because it was a safety issue. The Iranian athletes, dismayed over the ruling, took to the field crying, in shock that their Olympic dreams were over.
Safety issue? Really? Are you kidding me?
In Iran, female athletes are required to adhere to the Muslim country's religious rules on dress; arms and legs as well as hair must be covered. So team uniforms are specially designed to allow athletes to perform while adhering to the rules.
Athletic apparel can be as crucial in Olympics events as grueling training regimes, pre-event routines, or where an athlete lives during Olympic competition. When a new type of swimming suit came out several years ago, swimmers around the world who had access to the suits were able to shave crucial seconds off their times. Track and field athletes choose a variety of clothing, from barely-there shorts and tank tops, to full-fledge body suits.
Sporting organizations worldwide as well as the Olympics committee closely monitor clothing, drug use, training regimens, and other things for safety issues, among other things. And so when Muslim female athletes wanting to adhere to Islamic guidelines of dress donned sports versions of the hijab (headscarf) in international competition during the past decade, athletic organizations took note. But if you look back, many Muslim women have been safely wearing sports hijabs for years.
In the 2008 Beijing Olympic Games, an unprecedented number of Muslim athletes performed in the hijabwithout harm to themselves or others and within the technical parameters of modest Islamic dressing. Athletes from Afghanistan, Egypt, Iran, Bahrain, Yemen, the Gulf Nations of the United Arab Emirates, and Oman wore their hijabs and competed in track and field, rowing, archery, fencing, and taekwondo.
Bahrain's Ruqaya Al Ghasara took to the track in Beijing in the 200 meter sprint in her specially designed, flaming red hijood—a sports hijab, which is similar to what Iran's women's soccer team wears. Wearing athletic headscarves isn't out of the norm in international competition or at Olympic events. It doesn't make sense to me why FIFA would deem it against the rules or a safety issue. Is it because soccer is a team sport and FIFA officials felt other players could grab at the scarves? In the heat of a game, athletes can get aggressive with their opponents.
But consider this: In a 2009 women's soccer game, New Mexico was playing Brigham Young University in the Mountain West Conference semifinals. New Mexico defender Elizabeth Lambert, in the heat of the game, engaged in rough play and pulled an opposing player to the ground by her pony tail, thus earning her an indefinite suspension.
Maybe ponytails should be outlawed for safety reasons.
But this goes beyond being a mysterious safety concern for FIFA. The Washington Post article went on to say that in April 2010, FIFA announced that it was planning to ban headscarves and other religious outings during the 2012 Olympics.
Why? Athletes wear all sorts of religious paraphernalia, whether as a symbolic gesture or as part of their faith—from crosses or Star of David necklaces to yarmulkes to hijabs. Why would FIFA want to ban symbols of religion now? What purpose could that possibly serve? Hijabs are banned now. Next FIFA and the Olympics committee will say that women who choose to wear leggings or track suits as part of their national uniform to protect their modesty will be banned as well.
Remember in 1999 when Brandy Chastain fought criticism for pulling her shirt off to reveal her sports bra after the United States women's soccer team won the World Cup? Critics blasted her for immodesty. Now athletes are getting blasted for modesty? For following their faith?
6/7/2011 4:00:00 AM