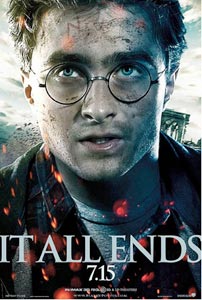 People have been camping out in Trafalgar Square, that most British of locations with its lion statues and fountains, the Nelson Column and the National Gallery, for almost a week to be sure and get prime spots for tonight's world-wide premiere of Harry Potter and the Deathly Hallows, Pt. 2. Daniel Radcliffe, who portrays Harry in the films, Emma Watson (Hermione Granger) Rupert Grint (Ron Weasley), and other actors and filmmakers will be present for the red-carpet premiere, which is being shown at theatres in nearby Leicester Square, and opens in general release next week.
For the past few weeks, the papers here—and American readers who aren't used to reading newspapers anymore should know that instead of being a relic now viewed only on line, there are a number of daily papers, which makes for a rather heated media culture—have been full of interviews with the stars, news on the premiere, and conversations with fans around the world such as the lad interviewed in The Telegraphwho put many people's feelings into words: "It was like watching my childhood come to an end."
That's a rather dramatic statement to make about popular culture, but nonetheless I feel something similar, as do many of those who have loved and learned from these stories all over the world. It has been 14 years since Harry Potter and the Philosopher's Stone was published here in Britain (the book was published a year later in the States as Harry Potter and the Sorcerer's Stone, supposedly because the word "philosopher" would not sound enticing to American ears). Since then, over 450 million copies of the books have been sold worldwide, and have been translated into over 70 languages. Harry Potter is a publishing phenomenon with which almost nothing compares. Only all the various translations of the Bible—and Mao's Little Red Book, which has had something of a required audience—have sold more copies, and J. K. Rowling is the first author ever to become a billionaire through her writing.
The Harry Potter movies, for their part, have outgrossed the Star Wars and James Bond films to become the most popular film series in history. That means that even if you have never read one of the books, you are likely to know something about the story by seeing at least one of the films, and of course many fans have experienced the Harry Potter story through both book and film. Add to that the Wizarding World of Harry Potter, an immensely popular theme park attraction in Orlando, Florida, and Rowling's recent announcement of Pottermore, an interactive website where readers get added information and experiences centered around the books, and the only place in the world where you can download Harry Potter audio and e-books, and you get something of the sense of how far-flung the experience has been—and how hungry people have been for it.
For people here in the UK, of course, their take on Potter is somewhat different than ours in the States. These are British stories, after all, as many British fans will proudly tell you. Joanna Rowling, O.B.E. (Officer of the Order of the British Empire, awarded by Her Majesty Elizabeth the Second, by the Grace of God, of Great Britain, Ireland and the British Dominions beyond the Seas Queen, Defender of the Faith) is very much a citizen of the United Kingdom: she was born in Gloucestershire, went to Wyedean Comprehensive School (half a mile from the Welsh border) where she was elected Head Girl as a Sixth Year, and she wrote the Potter novels in Scotland, where she lives now.
Harry Potter himself lives in a soul-killing suburb of London, of which there are many, unfortunately. Almost all of the other characters are British, the settings are almost exclusively British (for some reason, Rowling also seems to have a jones for Albania), and the social milieu is extremely British. While the Potter films and books are indeed an international phenomenon, they began life as an entirely British story, and so it's only appropriate as we come to the end of Pottermania to reflect on what that Britishness might teach us, since there are things Americans might miss or gloss over.
7/5/2011 4:00:00 AM