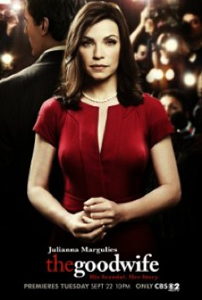 The seemingly endless days of high Texas temperatures have sapped my interest in talking about books. I'd recommend a movie but brainless summer movies like Transformers 3 or Zookeeper sap my energy even more.
What is a free mind that loves good stories to do? Turn to television, of course!
Allow me to recommend "The Good Wife," an addictive pleasure worth a lazy summer's evening. Part legal drama, part political commentary, and part soap opera, "The Good Wife" is intelligent, brilliantly nuanced, riveting entertainment. This show doesn't veer away from discussing faith and true human nature in authentic terms.
It is the story of Alicia Florrick, whose politico husband was jailed following a public sex and corruption scandal. She is the "good wife" who stands by her man, at least in public. To support her family, Alicia—who had abandoned her career to support her husband's and raise their two children—returns to her job as a litigator.
Alicia navigates the legal firm's internal politics while balancing her new role as an essentially single mother of teenagers. This is complicated by the fact that Alicia is never allowed to be a private citizen; political and press interests in her husband continually pop up to skew perceptions.
The cases Alicia represents are "ripped from the headlines" stories, and they often act as a foil against the personal problems Alicia faces. That is not always the case, but the stories are always smart and intricate, often taking unexpected turns. The lawyers often don't know if their clients are innocent and occasionally, as in real life, there is shock and disappointment over the resolutions.
The series was partly inspired by the Eliot Spitzer prostitution story and other political scandals. Set in Chicago—American-ese for "crooked politics"—the series also illustrates the continual wheeling and dealing present not only in our legal system but also in our political system.
All this would be pretty dry, of course, if we didn't care about the cases and about the characters' lives. They have a depth and completeness that is not often found on television. This is where "The Good Wife" shines. When her husband, Peter, consented to counseling by a preacher, Alicia caught a glimpse of them praying together and was amazed. So were we. The show goes to the trouble of turning Peter's cynical search for African-American political support (at a church, of course) into an encounter with Pastor Isaiah, who was not willing to just give lip service to his calling. Surprisingly, Peter admits to needing something more in his life, and the viewer was treated to some fascinating and authentic-seeming encounters.
Alicia: Are you becoming religious?
Peter: I don't know. I don't know what I'm becoming. But I want to change.
Alicia: Oh.
Peter: No. Really . . . change.
Later in the series, the Florricks' teenage daughter Grace begins searching for meaning via internet religious sites. Her embarrassingly Christian friend (who calls out things like, "Jesus died for your sins" at inappropriate chance encounters with celebrities) prays fervently for a man on death row. Grace watches with fascination and by the end of the day—much to her grandmother's horror—she also has begun praying.
Alicia's nonplussed expression any time she sees a family member involved with religion seems profoundly honest. She won't stop the search, but she doesn't understand it. There is a subtle thoroughness to how these characters are portrayed.
Alicia is not just the "good" wife because she stands by Peter. She is good in practically every sense of the word, even though she struggles with doubts about her life and career. Sorely tempted by an old flame, she continually remembers her children and resists anything that would endanger her family.
Alicia is a strong woman, not because she has an overbearing attitude but because she politely will not give way on important issues. Even when representing a legal position she dislikes, she is ethical while always finding a way to make her point. As her brother points out, she makes the people around her better because of the example she provides.
She is not perfect. Alicia makes mistakes but that simply makes the character more human. We understand her.
"The Good Wife's" array of well-rounded characters is exemplified in the disabled lawyer Louis Canning, played by Michael J. Fox. Canning will do anything to win cases, including shamelessly exploiting his own physical disabilities to manipulate juries. Fox, who suffers from Parkinson's disease, uses his obvious difficulties and considerable acting skills to make viewers relate to Canning as a lawyer more than as a handicapped person. Alicia, who has seen his tricks enough, distrusts every word he says. When we briefly see his home life and he opens up to Alicia about how to have a family and career, we don't know what to believe. Interestingly, Canning is often despicable in the courtroom and, on the other hand, the only character on the show who has a stable family life.
7/20/2011 4:00:00 AM