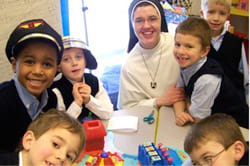 In a few days, I am going to a place I know well and not at all. It's a place that brings forth joy and grief, genius and ignorance, calm and chaos, a place that makes me put on my tie in the morning with a mixture of hope and excitement for the day that lies ahead.
I am a teacher. At about this time, in the waning days of August, where every ray of sun seems to set the air on fire, I feel like I did when, as a kid, my brother and I pulled out boogie boards and oversized towels for a pilgrimage to the beach. With a childlike relish, I revamp last year's syllabus, tinker with lesson plans, agonize over the perfectly worded policy that will finally—I tell myself—ambush in-class browsing, arrange and re-arrange desks . . . and spend a few somber moments in my empty classroom picturing the scenes of student life that will soon unfold.
Despite these happy days, the summer also brings with it another round of reflection on the state of education—on curriculum, on technology, on the continued deterioration of good writing, but especially on the forces and factors that threaten the model I love.
The classroom, so the argument goes, is obsolete. Teachers offer nothing that cannot be accessed online or through private tutoring. Education programs are worthless; testing standards have paved over higher-level thinking; and classes are like cramped airline terminals, with students treated like commuters stuck in coach.
Whether you've taught phonics or thermodynamics, you know those points have more than a veneer of validity. Overcrowded schools leave some students sitting on carpet. Teachers themselves, the product of teacher training programs, are the loudest complainers about those very programs. And organizations like the nonprofit TED (short for Technology, Entertainment, and Design, sponsor of the outstanding TED Talks) and the Khan Academy—an online education center with video instruction in almost every subject—rival, more than I want to admit, the standard fare in many American schools.
On the eve of a fresh start, I feel compelled to reflect upon these facts in light of an education rooted in the belief that God has become man. Where, I wonder, does Catholic education fit into this hyper-reforming milieu? Is it also on the road to extinction, shelling paperbacks in a world of Kindles, offering the equivalent of VHS in a world already beyond the DVD?
Absolutely not. Catholic education is more important now than it has ever been. Below, I want to note a few reasons why teachers in Catholic schools, but especially those at the K-8 and high school levels, serve indispensable roles for students, their families, and the Church.
First things first. The goal of a Christian is to come to know and believe in Jesus Christ and to live with God forever. Catholic education remains vital because it anchors itself in that foundational truth.
Young American Catholics, however, tend to know as much about that truth as they do the history of Mongolia. Because home-based faith formation is rare, Catholic school is usually the first and only forum where young men and women can hear about God, Jesus Christ, and the deposit of faith.
The hours of 8am to 3pm, therefore, assume urgent responsibilities. The onlytime a student prays, the only time a student wrestles with questions about doubt and belief, the only time a student considers that God has become man: the only time any of this occurs might be at his or her Catholic school. A teacher's fifty minutes of class time are analogous to sacraments: they are doors to the sacred.
Catholic schools are also some of the only arenas where students not only learn about Catholicism but also see it practiced. To emphasize this point, I offer a chapter from my own teenage years. One of the most transformative moments for the growth of my faith was my senior year at Brophy College Preparatory, the Jesuit high school in Phoenix. During that year, as I began to think about what I believed and who I wanted to become, I befriended the varsity basketball coach. During lunchtime chats about life and faith, I learned that he attended Mass in the school chapel. The varsity basketball coach attends daily Mass? The Hubble Telescope might as well have revealed life on Mars.
8/18/2011 4:00:00 AM