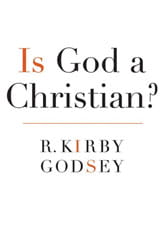 On March 20, 2011, Florida Pastor Terry Jones, ignoring thousands of Americans' pleas, organized a Q'uran burning on American soil. Subsequently on April 2, angry Afghans murdered 12 at the United Nations compound in Mazar-I-Sharif to avenge the Florida burning of their sacred scriptures.
This is the world stage R. Kirby Godsey explores in his new book, Is God a Christian? (Mercer University Press; May 2011, $19.95). Written not as a scholar's treatise, but with a believer's pen, this compelling interfaith challenge to Christians soared to #13 on Amazon's Comparative Religion titles within two weeks of its release. The very same week Is God a Christian? was launched, Desmond Tutu released a collection of his speeches under the title God is Not a Christian...coincidence or synchronicity?
"You and I and all our human companions from other races and ethnic groups are not abstractions and we do not come from theoretical places, " Godsey states. "We are flesh and blood, composing history on a small and rather inconsequential planet orbiting a small star in a galaxy adrift among thousands of others. So the future of religion is not a theological problem, it is a human problem. The very future of humankind is about nurturing new stories that will become the history of our future."

R. Kirby Godsey, Ph.D., is known as a man of courage and conviction. In 1996 his first book, When We Talk About God, Let's Be Honest sparked controversy but also conversations as mainstream Christians, including Methodists, Presbyterians and Episcopalians, chose to study the book for its honest insights on faith, doubt, fear and grace.When some Baptist churches pulled funding from the University, Mercer trustees stood behind Godsey and the principles of academic and religious freedom.
In his new book, Is God a Christian? (www.isgodachristian.com), Dr. Godsey introduces readers to a God who loves all of us more than each of our religions. The book probes how religion creates artificial boundaries separating peoples of faith; it explores the wisdoms and challenges of seven world religions, tracks seven common threads in religions today and, finally, invites readers to create faithful conversations for peace. It is a call to action for individuals and small group study as well.
People outside the Christian faith appreciate the importance of this book and the possibilities it presents for community conversations.At a recent launch event Rabbi Larry Schlesinger of Temple Beth Israel said "I'm going to step out on a limb and say I found the book not only revolutionary, but also revelatory in the wisdom sense of scriptures." Imam Adam Fofana of the Islamic Center of Middle Georgia also applauded the book, saying "This book has made me a better Muslim; it opens the mind to God from a wider perspective."
As we approach the 10th anniversary of 9/11, the growing interest in interfaith understanding is reshaping seminary curricula in mainstream Christian faiths and igniting study groups and resources across the country.
Dr. Ben Johnson of the Interfaith Community Institute in Atlanta commends Is God a Christian?, as follows: "In this age of the Internet, cell phone, Face book and different neighbors next door, the religious world is intimately connected and this book offers a sound theological basis for positive interfaith relationships."
Dr. Godsey states, "My core message is that religious prejudice and intolerance are diminishing us, threatening the fiber of human civilization. If religion is to survive as a relevant and constructive force in the world, which I believe it should, we must see every person as a gift of God to the world and we should meet and to listen to one another with deeper humility, more profound respect, more genuine gentleness and more abundant grace."
The book, published by Mercer University Press, retails for $19.95 and is available at Barnes and Noble Booksellers, Amazon, BN.com ad Mercer University Press. EBooks for Kindles, Nooks and Ipads are also available. Study guides for the book are available on the website (http://www.isgodachristian.com/).
Return to the Patheos Book Club for more resources about this book, including an interview with author R. Kirby Godsey.
8/15/2011 4:00:00 AM